The Bill Of Rights Has A Very Bad Week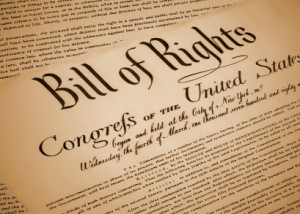 Of course, while everyone in Washington, and the courtier press that serves them, were endlessly droning on and on about the Gentle Fiscal Incline, the Bill Of Rights closed out 2012 by having one of the worst weeks it's had in the two centuries of its existence. But the courtier press paid that little mind, possibly because selling out the Bill Of Rights was done on a "bipartisan" basis, and the denizens of the various Green Rooms would endorse cannibal murder if both parties agreed to subsidize it.
First came the revolting vote on the reauthorization of FISA. Time was, and not that long ago, that the whole idea of a secret court issuing secret warrants was enough to raise hackles all on its own. (There even was an episode of Law And Order from 2004 that centered on the execution of a FISA warrant that sent liberal defense attorney Danielle Melnick, and assistant DA Serena Southerland, up the wall.) Now the old FISA regulations seem like they were drafted by George Mason, compared to what keeps getting reauthorized in the Senate.
This latest thing was to reauthorize the truly spooky FISA Amendments that were passed in 2008 when the president, in one of the actions he's taken that really was a naked sellout of his previously enunciated principles, joined with a Senate majority to immunize the telecommunications companies that had participated in the Bush Administration's lawlessness regarding wiretapping, as well as to authorize sweeping new wiretapping powers far beyond those against which the companies were being immunized. What the president did is not excused by the fact that he was running for president at the time. This wasn't a flip-flop he took because he wanted to be elected. This was a flip-flop he took because he wanted to do some things once he was elected.
This year, as those amendments came up for reauthorization, what we had was a genuine horror show, and it was made worse by the awful debate that preceded the vote. There was enough boogedy-boogedy coming from the Democratic side to embarrass John Bolton. Glenn Greenwald already has written at length on this, but one comment from the now-inexcusable Dianne Feinstein is worthy of further comment.
"This is an effort to make that material public, and I think it's a mistake at this particular time because it will chill the program, it will make us less secure, not more secure…I know where this goes, it goes to destroy the program. I don't want to see it destroyed."
In other words…no, wait, there are no other words. This is the argument of a totalitarian. You can't know what we're doing to protect you, even if we're doing it to you, because then we can't protect you and you will be killed by bad people and it will be your own fault. Somewhere in East Germany, an elderly ex-bureaucrat is getting a thrill up his leg and doesn't know why.
Later, came the release of some FBI documents in which it seemed to indicate at least an unacceptable level of involvement by federal law enforcement in the crackdowns by local authorities on the various outposts of the Occupy movement. …


Print This Post