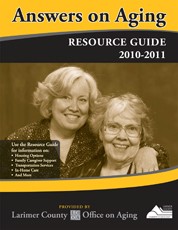 Larimer County, Colorado – The 2010-2011 version of Larimer County's Office on Aging "Answers on Aging Resource Guide," is now available on paper and online at www.larimer.org/seniors, (click on publications). This free booklet contains useful information on local resources and programs for older adults and their families. Topics include:
income tax filing
legal issues
transportation options
senior centers
volunteer opportunities
financial help
flu shots
hearing and vision assistance
long-term care and housing options
mental health issues
nutrition programs
adult day care
family caregiver support
health and dental care
To receive a free paper copy of "Answers on Aging Resource Guide" call 970-498-7751.

Print This Post