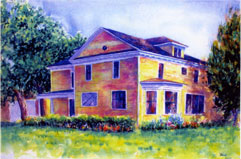 Berthoud Area Humanities Alliance (BAHA) and Citizens First (CF) are sending out a call to all Berthoud Area artists for the first Art in the Garden event to be held on Saturday, June 26 from 4:00 to 8:00 p. m. in the beautiful garden of the historic Waggener home, 980 Mountain Avenue, in Berthoud.
Art in the Garden will provide a showcase for painters, photographers, sculptors and potters featuring Berthoud area artists. There is no entry fee, ten percent of the artists' total sales from the show will go to BAHA.
A minimum of six pieces must be displayed. Artists will provide their own display mechanism and tents or canopies if desired. Individual exhibits may be set up on the large grass lawn that is directly south of Turner Middle School as early as 1:30 p. m. on the day of the event to be ready for the public at 4:00 p. m..
There is a $5.00 charge for adults to enter the event, while children 12 and under are free. Water and soft drinks will be available for purchase and local wineries will provide free wine tasting for attendees over 21 years of age. If you are an artist who is interested in participating in this event, please call Dorian Ryan Tacy, 970-214-8840 or Judy Lehn, 970-532-2378.
Artist participation letter and other information may be found on the Art in the Garden website:

Print This Post