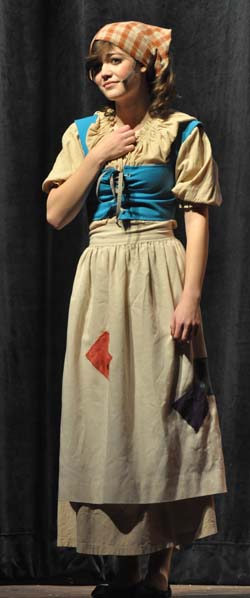 The Berthoud High School singers and actors are in the final stages of dress rehearsal for  the production of Cinderella. This particular version is the Rogers and Hammerstein play which was written for television and first appeared in 1957 featuring Julie Andrews as Cinderella. Two more television productions were done, the first in 1965 with Leslie Ann Warren as Cinderella and Ginger Rogers as the king. The 1997 production featured Brandy as Cinderella and had Whitney Houston and Whoopi Goldberg in its cast of stars.
Those evil stepsisters
Over the years hundreds of films have been made that are adaptations of the Cinderella story or have plots based on the story. The first animated version (1934) featured Betty Boop, but today's audience is more familiar with the Disney classic released in 1950.
The story, a classic rags to riches tale, has origins in antiquity. Recorded in the 1st century BC was the tale of the Greco-Egyptian girl Rhodopis or "rose-cheeks." This passage is often considered the oldest known version of the story:
They tell the fabulous story that, when she was bathing, an eagle snatched one of her sandals from her maid and carried it to Memphis; and while the king was administering justice in the open air, the eagle, when it arrived above his head, flung the sandal into his lap; and the king, stirred both by the beautiful shape of the sandal and by the strangeness of the occurrence, sent men in all directions into the country in quest of the woman who wore the sandal; and when she was found in the city of Naucratis, she was brought up to Memphis, became the wife of the king…[

Reference: Wikipedia
It seems that most  cultures have a Cinderella type story. There is even a Brothers Grimm version. What ever the culture, whatever the version, the Cinderella story is a delight.
Fairy Godmother to the rescue
As the Bethoud actors take the stage, we note that this in not the first production of this musical on the Berthoud High School stage. Stuart Boyd attended the Monday night rehearsal and noted that when he directed this production "a few years ago" that Mrs. Paula (Schmidt) Latchaw was the Fairy Godmother and Kathleen Gruman was Cinderella.
Monday night was the first dress rehearsal for the cast and there were some awkward moments and discussions about timing and lighting, the singing was fabulous and I am sure the dedicated troopers will have it all together for opening night.
Performances are November 18,19 and 20 at 7:30 p.m. with a Saturday matinee on November 20 at 2 p.m.
Tickets are $8 if purchased in advance at the school office or $10 at the door.
Here is a sample of what is in store for play goers.

Print This Post