Small Acreage Management Workshop on May 16, 2015 at The Ranch, Loveland
Do you own a small acreage property and would like to learn how be better manage your property with pressures from grazing, drought, weeds and more? Receive information and guidance on a wide variety of small acreage management concerns at the Small Acreage Management Workshop on May 16, 2015, 8:30 a.m. to 3:30 p.m. at the 4-H McKee Building at The Ranch, Loveland, Colorado. The event is sponsored by Colorado State University Extension, West Greeley Conservation District, and the Natural Resources Conservation Service.
The keynote address will be given on soils by Dr. Gene Kelly, Department Head and Professor at CSU. Presentations will cover weed and pasture management, backyard poultry, small fruit production in Colorado, when to call a veterinarian, cover crops, and food safety for backyard production. Participants can choose the sessions they would like to attend to match their specific interests and needs. The workshop will focus on the basics for each topic and will be led by experts in their field who can also answer complex questions.
The cost to attend the all-day event is $25 per person or $40 per couple, which includes refreshments. Lunch is on your own.
To see a list of topics and speakers or to register go to: https://small-acreage-workshop.eventbrite.com or contact Karen Crumbaker at kcrumbaker@larimer.org or (970) 498-6003.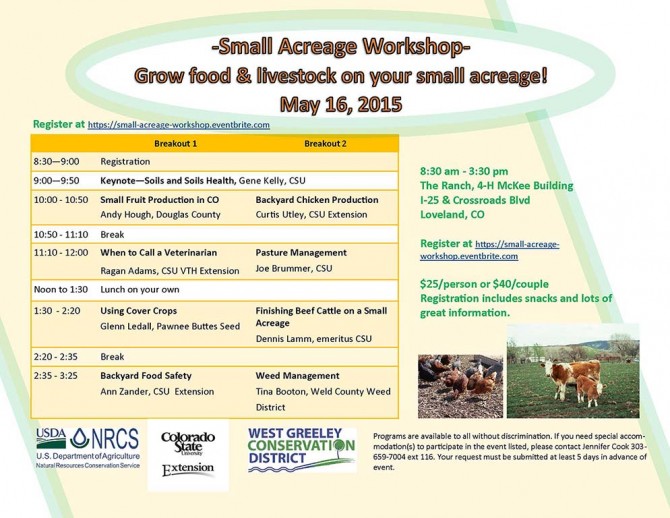 Print This Post