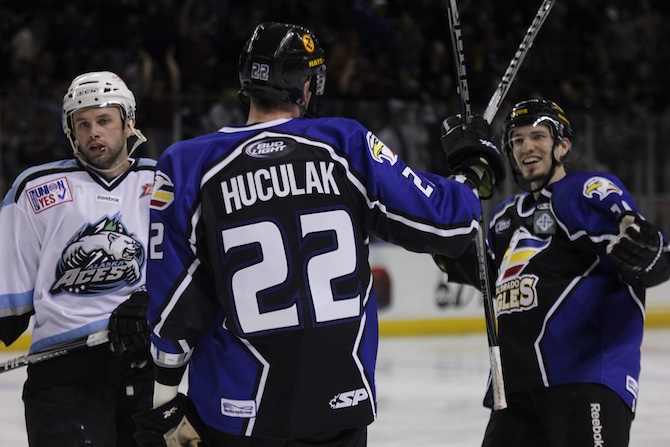 Eagles Snap Skid With First Victory Over Alaska Aces

LOVELAND, Colo. – The Colorado Eagles snapped a four-game losing streak with a 3-1 win against the Alaska Aces.  The victory was their first against the defending champs this season, and came in front of a lively crowd at the Budweiser Events Center in what approached a playoff atmosphere between the top two teams in the Mountain Division.
The teams played an even first period with Alaska holding a 7-6 edge in shots but with each team finding the back of the net once.  Bryan Miller opened the scoring for the Aces five minutes in — just two seconds after a power play expired — when his slap-shot from the right point found its way through a maze of bodies and under Kyle Jones.
Colorado tied the game midway through the opening frame on a great play by Riley Nelson.  Rookie defenseman Jake Marto found the Eagles' captain in the neutral zone, sending him on a rush down the right wing.  Nelson then stick-handled through the right circle before snapping a shot past Shane Owen.
The Aces used a 3-to-1 advantage in power plays in the second period to help them out-shoot the Eagles, 9-6, but Colorado was the only team to score in the frame, taking a 2-1 lead into the second intermission.  The goal came two minutes into the frame when Colorado won a battle below the goal line, leading to a Patrick Cey chance from the doorstep, which Owen kicked out to Liam Huculak below the left circle for a wide-open shot.
Colorado put forth their strongest effort in the third period (despite being out-shot 13-6), adding an early insurance goal and killing two Aces power plays to go a perfect 7-for-7 on the night on the penalty kill.  The goal came at 1:38 following a faceoff win in the left circle of the offensive zone when Aaron Schneekloth blasted home a shot from the point.
The teams will finish up their season series tomorrow night with their third game against each other this week and their fifth meeting in a row.

Print This Post