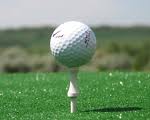 The Little Thompson Observatory in Berthoud is hosting the LTO Open Golf Tournament on Saturday July 17, 2010 at Twin Peaks Golf Course in Longmont. The format is 4 person teams, best ball. The event starts at 8:00 AM with check-in beginning at 7AM.  Mulligan's and putting string are available at extra cost. Single golfers are welcome too; tournament organizers can help place you on a team.
The tournament is a fund raiser to support the final phase of expansion which includes bringing the 24 inch telescope that was obtained in 2006 from Telescopes in Education on-line. This telescope was built for NASA in the 1960's to survey the Moon prior to the Apollo missions. The LTO is still in need of substantial funds for acquisition of the control systems and completion of the telescope installation.
There is still space available for those who would like to compete and have some fun too. The cost is $85 per person, which includes greens fees, a cart and lunch. A portion of the fee as well as the mulligan's and putting string are tax deductible.  Tax receipts will be provided at the tournament.
Prizes will be awarded to the top 3 teams as well as the last place team. Complete information is available from Mark Rennert at mrennert@starkids.org or by phone 970-532-5986 or John Webber at johnwebber@centurytel.net or by phone 719-248-6544.
The primary mission of the Little Thompson Observatory is to encourage and support education in math and science for students of all ages, especially Kindergarten through Grade 12. Opened in June 1999, LTO is celebrating its 11th Anniversary this year. Please come out and support the observatory in getting the 24 inch telescope up and running and providing access to 2 great telescopes to students and astronomy buffs in the region.

Print This Post