LAMAR—Betsy Markey has earned a perfect score from the Pinon Canyon Expansion Opposition Coalition for her efforts to stop the expansion of the Pinon Canyon Maneuver Site in Southeast Colorado.
The Coalition wrote,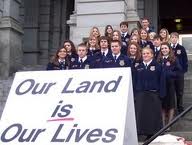 PCEOC has given Betsy Markey an A+ rating for her efforts to stop the Pinon Canyon expansion. She is a candidate that has put her congressional votes and legislative efforts where her mouth is to keep Pinon Canyon from expanding.
Betsy Markey co-sponsored and pushed for legislation that included the ban on funding for any expansion of Pinon Canyon. She thus has a proven track record on stopping the Pinon Canyon expansion. The only thing that keeps the expansion from happening at this point is the congressional funding ban that Congressman John Salazar and Betsy Markey have worked to get renewed each year.
The future of southeastern Colorado hangs in the balance – we survive if Pinon Canyon isn't expanded – we are eliminated if it does. That includes a large part of the 4th Congressional District that Congresswoman Markey represents.
"I stand with the farmers, ranchers and landowners in Southeast Colorado who want nothing to do with the Army's expansion, and who have lived far too long under the threat of this expansion, " said Betsy Markey. "I will continue to fight this expansion as long as it threatens land that citizens of Southeast Colorado do not wish to sell. "

Print This Post