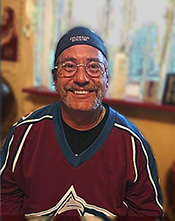 Denis Patrick Dawdy took his last breath on earth and first breath in Heaven on October 4th, 2023 at the age of 57.
He attended Berthoud Elementary School, Ivy Stockwell, Turner Jr High and Berthoud High School. He received his GED from Colorado State University. and joined the Army in the mid 1980's.
He married Heidi Lanhart on April 8th, 2017 and they resided in Loveland.
Denis worked as a landscaper, tree trimmer and traffic flagger. He was a very hard worker.
Denis was a Christian.
Denis enjoyed playing golf, archery, fishing, going to the thrift stores, and being with his family and friends. Denis was an avid Broncos and Avalanche fan. He also loved animals and they loved him. He was a very giving person.
He was presided in death by his father Jack Olen Dawdy, Grandmother Marina Seering, Uncle Denis LaRaque, Grandfather Albert Seering and many aunts and uncles.
He is survived by his wife Heidi Dawdy of Loveland, CO, mother Yvonne Dawdy of Berthoud, children Geno Patrick Dawdy of Hollywood FL, Joseph Walker Dawdy of Cortez, and Gina Marie Gagliardo of Hollywood, Florida.
Brothers family: Michael, Anne, Andrew and Eric of Ballston Lake NY and David, Michelle, Juliana and Kyla of Springfield, Virginia,  Uncle Gabriel LaRaque of Vellejo, California and numerous family and friends.
He will be greatly missed by family and friends.
A celebration of his life will be celebrated at a later time.

Print This Post