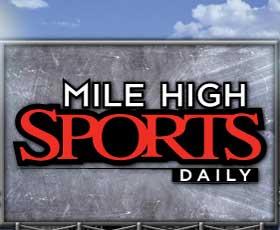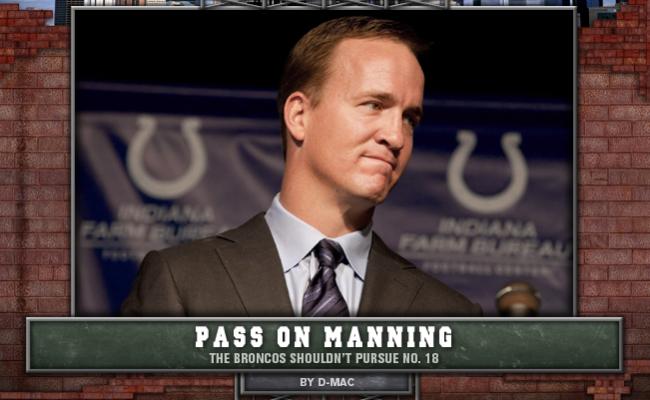 How can something that looks so right be so wrong? Well, the Broncos would be making a tragic mistake if they were able to somehow win the Peyton Manning sweepstakes.
"Oh, D-Mac, you are just a blind Tebow lover! You are an idiot! You suck! I hate you!"
See, I can read your mind. But now that you got that out of your system, can I talk some sense into you?
Peyton Manning is not Peyton Manning anymore. The most obvious evidence of that is that the Colts just cut him. Nothing is ever guaranteed in the NFL. Any chance to win, in any year you can, is always better than the hope of the future.
Why are the Rams shopping their second pick? The reason is because they have their QB – Sam Bradford. He had just as crappy as a season as the Colts, yet the Rams have no interest in Andrew Luck, RG3, Matt Flynn or, frankly, Peyton Manning!
The ultimate hope of any Manning suitor is that they are getting the Super Bowl version of Manning. But, who knows what anybody is getting in this deal beyond a 36-year-old QB who had to sit out a year with four – count 'em, four – neck surgeries.
Listen, I understand why Peyton Manning wants to keep playing; golf is highly overrated and frankly, when was the last time you spent all day with your children? He'll be 36 at the end of this month and that is clearly a young man in life, but a borderline grandpa in the NFL. Sitting out last year was emotionally painful. He exhibited in his farewell press conference that he has the desire, but is he really ready to take the pounding?
The person who has the biggest financial commitment says no. Jim Irsay made the most difficult decision of his life. Why? The Colts have so many different needs, but everybody knows that with Manning, you are gonna get wins – at least some wins. Isn't that better than nothing? In terms of Andrew Luck – screw it, draft him anyway and sit him on the bench. What are you gonna do, piss him off? Who cares?
Nah; this decision was made by the Colts because it is absolutely in the best interest of the franchise, because the powers that be in Indy know that Manning just isn't the same old Manning. In fact, they've known it all year; that's why there's a new GM, a new coach, hell, they've hired new trainers. They've become new because they know Manning is old.
Some teams truly have nothing special going on at the QB position. Is Matt Moore special? Nope. Is Kevin Kolb special? Nope. In fact, he's a huge, overhyped disappointment. Is there anything special going on with Shanny ball in DC? Nope.
But is Tim Tebow special? Sure is. Incredibly so. The Dolphins, Cardinals and Redskins missed the playoffs. So, I don't want to hear about how Tebow got lucky. I don't want to hear about a weak division (he played better QB than Carson Palmer, who apparently was worth two first-round draft picks). I don't want to hear about how the true savior of the team is the plucky Matt Prater. It was Tebow, my friends, that was the catalyst for everything!
As unique as it would be to hire a mercenary like Manning – a person who gave his undying love to the Colts no matter where he plays – the simple, undeniable truth is that Tebow is ours. Tebow, whether you like it or not, is Denver. I don't care how many Taylor Swift lunches he has in L.A.; he is a Rocky Mountain man, perhaps our football messiah.
Manning would not be a mentor. Manning would not be a teacher. Manning is simply looking for another round at glory because he can't come to terms with his finality of his already Hall of Fame career.
What satisfaction are you going to have as a Broncos fan when you have to share a championship with Indy? Are you gonna really be happy with that result? Maybe you will. There were plenty of people applauding Ray Bourque when he lifted Lord Stanley's Cup and then bizarrely had his number retired by the Avs. But, is there any way that would be better than Tebow hoisting the Lombardi Trophy?
I say no.
This argument is based more on hope than reality. I understand that. However, the medical aspect of the Manning injury is so huge, it can't be overlooked. The Zapruder-like film from the gridiron of Duke University should not be enough to sway any team or any fan that there is still gas in the Manning tank unless you are truly desperate. The Broncos may not be perfect, but they aren't desperate either.
***
Want more Mile High Sports? Check out Brandon Krisztal's blog at milehighsports.com. Today, BK offers a counterargument, explaining why the Broncos should pursue Peyton Manning.

Print This Post