Berthoud Girls Golf Team Prepares 2011 Season
By Dan Karpiel
Sports Writer
The vast majority of high school student-athletes spend a sizeable portion of their young lives crafting, honing and perfecting their skill set before competing for state titles. That was not the case for Berthoud High golfer Brandi Peter. Miss Peter, a junior, picked up the game of golf the summer prior to her freshman year. Less than nine months later, she was competing in the state tournament.
"I did 12 years of competitive gymnastics and that was a really, really big part of my life so I didn't have any other time to do anything else," Peter said when asked about her relatively late entry onto the links. She explained that her parents are avid golfers and after trying the sport with them, she fell in love; "I tried it and really liked it and so we got my first set of clubs and it hasn't stopped since."
Peter competed for the state title as both a freshman and sophomore but fell short of taking home the championship cup. Yet, Peter herself, as well as Berthoud High Golf Coach Mike King, has high expectations for her junior season. "This season is a little bit different for her … we're going to see how low she can go; she's got the background, she's got the equipment, she's got the drive," said King.
Miss Peter said she has worked diligently in the off-season to improve her play around the greens as well as her putting. Over the winter she spent time working on her game at Leonard's Golf in Erie, where she sought to sharpen her swing mechanics with the goal of improving the distance and power of her shots. Peter added that she competed in several tournaments where she shot rounds "in the mid 80s" last summer.
As players of any ability or skill level will attest, golf is a game played predominately in the six-inch space between one's ears; it is first and foremost, a game of mental fortitude. Peter recognizes this, stating that she needs to focus "on my mental game; more of just staying calm and not getting overwhelmed by a specific shot, just staying in more of a consistent groove as I play." Coach King echoed Peter's comments saying that he will work with her on improving "on-course game-management and short-game."
In addition to Peter, Coach King will be looking to fill an additional four spots for the varsity golf team. "We graduated five seniors last year so we've got quite a few sophomores and juniors who will try for the other spots on varsity." Always upbeat and enthusiastic, King added, "we've got a new crop of girls that are very, very eager to become better golfers … we're hitting the ground running."
One of King's new golfers is senior Katie Asa, who is playing competitive golf for the first time. Asa, who has played recreationally with her father and brother, said, "I just want to improve and get better … I usually can hit the ball pretty straight but I probably need to keep working on making the right swing each time."
Another player new to the game is senior Jesse Bercaw. Bercaw played soccer for Berthoud High the last three years but opted to give golf a try this year. "My mom always played golf and a lot of my friends do it and I just thought I'd try it too," she said with a big grin and added that she took a few golf lessons three years ago but is coming into this year with a lot to learn. "I was pretty good at putting … but I really need to work on my aim."
Junior Alexis Petty will be teeing up for her third season on the Spartan golf team. Like many of her teammates, Petty's interest in golf came from her family playing the game. "My dad plays golf a lot and I just thought I would give it a try and it was really fun." She called her freshmen season "pretty bad" but added that she improved as she continued playing. Petty stated that she can get good distance on her shots but will work this season on her putting and short game around the greens.
King and assistant golf coach Troy Diffendaffer will work with each golfer, and their varying skill levels, individually as they select five varsity players and prepare the team for the 2011 season. The Lady Spartans golf team will compete in their first tournament of the season next Monday, March 21, at Twin Peaks Golf Course in Longmont.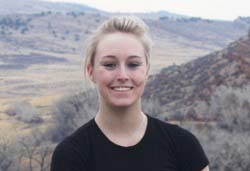 Print This Post