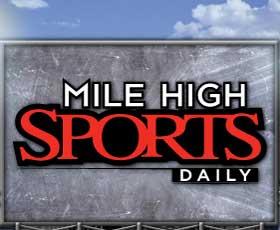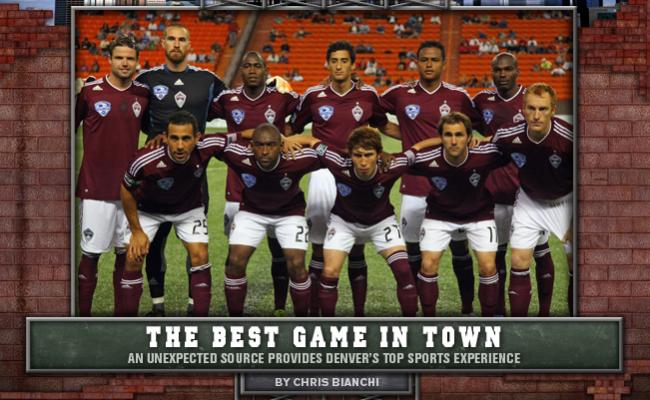 The Colorado Rapids kick off their regular season tomorrow afternoon against the…
SOCCER REFERENCE ALERT! 
Wait, what? Is this another soccer article? On the same weekend Peyton Manning makes his decision to disappoint Broncos fans and head to South Beach, the Big Apple or Arizona?
Yes, yes it is. The Rapids kick off their 2012 season tomorrow against the Columbus Crew, and if you're saying to yourself, "I'm not going to watch soccer," I've got one thing to say to you:
You're missing out.
For those of you whining that soccer doesn't have enough offense or goals, you're about to see a whole heck of a lot more of it from your local team this season, at an affordable price and at a stadium without a bad seat in the house.
The Rapids take the field tomorrow with a brand-new, attack-oriented look designed to score more goals and draw less yawns from the average sports fan. A brand new head coach (Oscar Pareja) will nervously pace the sidelines and a new team president (Tim Hinchey) will be anxiously watching every moment from his seat high atop Dick's Sporting Goods Park. The only thing that won't change? A team that's ready to win now and sprinkled with players who just might be singing The Star Spangled Banner for Team USA at the 2014 World Cup.
Overlooked is a team that just 16 months ago won the city's most recent professional championship (not otherwise done since the Avalanche hoisted the Stanley Cup way back in 2001), and spent considerable cash this offseason to bring in skilled players from South America to attract you, the casual sports fan who complains about soccer being boring.
If you happen to hop on I-70 and zip over to Dick's Sporting Goods Park, you'll watch players who can't speak a lick of English (today, new Argentine midfielder Martin Rivero be spending his 10th full day ever in the United States) standing shoulder-to-shoulder with Denver South's Conor Casey, Regis Jesuit's Brian Mullan, Rangeview's Davy Armstrong and Metro State's Steven Emory.
You'll see Jeff Larentowicz, the can't-miss red head who played so well for the Rapids last year that he earned his first three call-ups to the USA national team this offseason. Helping Larentowicz solidify the midfield is veteran bulldog and team captain Pablo Mastroeni, a two-time USA World Cup representative and one of the most respected players in the MLS. And then up top, Casey's shining bald head (returning from Achilles surgery in a few weeks) will once again be counted on to send pinpoint crosses into the back of the net.
You'll pay to watch a growing number of international superstars choosing to come to the United States, whose teams will play at least once a year at Dick's Sporting Goods Park. Joining David Beckham – who surprisingly decided to stay in the United States for another tour with the L.A. Galaxy – in Major League Soccer this season will be Thierry Henry (that French dude whose goal in the 2006 World Cup knocked out defending champions Brazil), Robbie Keane (the temperamental Irishman who tore up the best league in the world for over a decade) and Rafa Marquez (the captain of the Mexican national team and still one of the best center defenders in the world). These aren't mom 'n pop players, folks.
Bored of international guys whose names you can't pronounce? Up-and-coming American studs Teal Bunbury, Brek Shea, Juan Agudelo and Geoff Cameron, who soon will be getting multi-million dollar offers to go play for the biggest teams in Europe, will also be visiting Commerce City. Google them, and while you're at it, type in "Tony Cascio" – he's the Rapids' promising first-round pick this year who tore up the preseason and figures to start on day one as just a 21-year-old pup.
You might cite the seemingly permanent American apathy towards soccer as a reason to keep ignoring the world's game and Denver's most successful pro team. But the fact that the Rapids don't sell out every game is becoming more of an anomaly in Major League Soccer than a rule. MLS has found diehard markets in Toronto, Seattle, Portland, Vancouver, Philadelphia, Los Angeles and Kansas City – almost entirely within the past five years. In 2011, attendance increased for 12 of the league's 16 teams from 2010, and this year's newest team, Montreal, is expected to draw fans in droves, as well. League expansion is being targeted in markets such as Baltimore, Detroit, Orlando, Las Vegas, Minneapolis and Sacramento, and new soccer-specific stadiums are being drawn up from San Jose to Boston. The league is booming, having found its niche mostly among soccer diehards, but increasingly amongst more mainstream sports fans, as well.
Sure, the NFL is booming, but the Broncos have $50 million to play with and will almost assuredly choose to shove the excess cash in their pockets – on a team where five to seven wins are almost a sure-fire lock for next season. Or the NBA, fresh off a lockout and with players who don't try until the postseason, and where the Nuggets' maddening inconsistency makes you want to bang your head against a wall. Or the NHL, who just might be headed back to another lockout this fall, and where the Avalanche have been the definition of low-spending mediocrity for nearly a decade, and where nostalgia – not the on-ice product – still dominates the half-empty atmosphere at Pepsi Center.
Still willing to accept mediocrity while stubbornly ignoring a skilled, fast-paced team primed to make a deep postseason run? That's fine. But don't complain when the Nuggets get knocked out in the first round for year 143 in a row, the Broncos slump to a six-win season, the Avs keep spending nothing and the Rockies keep trotting out 49-year-old hurlers as starting pitchers.
But if you're ready for a change, I'll see you at Dick's Sporting Goods Park tomorrow afternoon. Now back to your regularly scheduled mainstream sports reading.
***
Want more Mile High Sports? Check out Josh Pennock's blog at milehighsports.com. Today, "Herb" explains how Broncos fans are burying their heads in the sand.

Print This Post