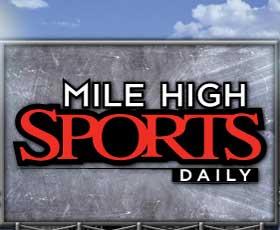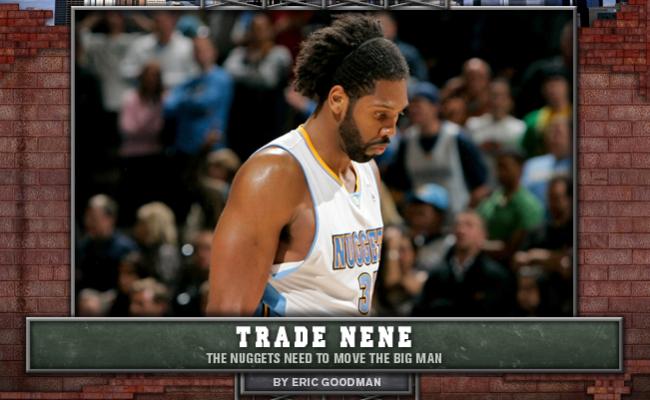 Nuggets owner Josh Kroenke and general manager Masai Ujiri have built an impressive roster in relatively short time. They squeezed Timofey Mozgov out of the Knicks in the Carmelo Anthony deal. And they shrewdly dealt a second-round pick to the Dallas Mavericks for Rudy Fernandez and Corey Brewer. Smart NBA executives carve out opportunities, patiently wait for the right time to pull the trigger and then pounce on the prize.
The time has come for Kroenke and Ujiri to make their boldest move yet – trade Nene.
It may sound absurd to suggest trading a player who recently signed a five-year, $67.5-million deal, yet what's absurd is keeping him for $13.5 million per season until 2016.
The trade deadline is a week from tomorrow, but at this moment, you can forget about the Nuggets doing anything significant. New contracts for Nene, Danilo Gallinari and Arron Afflalo have pushed their nose to the glass. The Nuggets have hit the $58 million limit, so a big deal is the only way to clear significant space.
Trading Nene isn't about financial flexibility; it's about doing what's best to build this franchise into a legitimate title contender.
Kenneth Faried may not be the Nuggets future power forward, but he is a big part of the Nuggets future. He's played a key role during the Nuggets current four-game winning streak, averaging 15 points and 10 rebounds per game. He'll only get better with more playing time, which Nene is sure to take away once he's fully healed from his calf injury.
I would take Faried's upside over a player who's hit his plateau. Nene is who he is. He's a guy who'll give you 14 points and eight rebounds per game, some solid one-on-one defense, and inconsistent intensity. After nine years, any fair-minded person would say he's never reached his full potential.
Besides the fact that he's not worth the money, he's worth more to the Nuggets if they can get something for him. And they can with some creativity.
Package Nene and a first-round draft pick for a lottery pick. You would think one of the bottom 14 teams in the league would be interested. If the team wants a guy like Rudy Fernandez to sweeten the pot, so be it.
The Nuggets might be giving up a lot, but it's worth the risk for a potential star in what many consider a deep draft.
"There are seven or eight legitimate candidates to be the No. 1 pick (in 2012)," one front-office executive said. "There is going to be talent and depth in this group."
Tempering this executive's enthusiasm, a few other executives believe it could be a little overrated. Either way, it's work the risk. If Kroenke and Ujiri were smart enough to take Faried with the 22nd pick, I trust their judgment to hit the lottery.
More importantly, the draft is the only way this franchise will ever have a superstar again. Big-time free agents only look at Denver when they're flying over the Rocky Mountains to get to Los Angeles.
One Nuggets executive told me after the Melo trade that the team needs a superstar to win a championship. Ty Lawson and Gallinari might grow into that role. Nene is nothing more than an athletic big man who's as unpredictable as a Kim Kardashian wedding vow.
This isn't about wanting Nene off the team like Allen Iverson or J.R. Smith. Nene is a good guy, but the Nuggets have a lot of good guys.
So who should Kroenke and Ujiri call? Speed dialing New Orleans would be a good start. The Hornets have a pair of first-round draft picks. Their own and the one they acquired from the Minnesota Timberwolves. Neither team is expected to make the playoffs, so there will be plenty of ping pong balls flying around at the annual pilgrimage to New Jersey.
Here's the trade: Nene and the Nuggets first-round pick, which will likely be around No. 20 for the Timberwolves pick. If the Hornets need to throw in power forward Carl Landry and shooting guard Xavier Henry to offset salary, no problem. Landry hasn't played much because of a knee injury and will finish up his one-year, $9 million contract extension this season.
If this doesn't work, sign Wilson Chandler in the next two weeks, so he'll be available to be traded by the draft. Package Nene, Chandler and the pick to New Orleans. The Hornets need starters and both of those guys could start opening night in 2012. Just need to make the salaries work.
Kroenke and Ujiri are smart basketball men. Trading Nene for the opportunity to draft a franchise player is a smart move.
Eric Goodman hosts "The Mile High Club with Eric, Kiz and Burns" from 7a-9a Monday through Friday on Mile High Sports Radio AM 1510 | FM 93.7. You can also follow Eric Goodman on Twitter @ericgoodman.
***
Want more Mile High Sports? Check out Chris Dolge's blog at milehighsports.com. Today, the Outsider explains why the Broncos shouldn't pursue a free agent wide receiver.

Print This Post