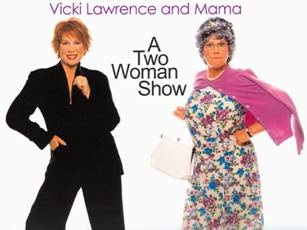 Vicki Lawrence's two-woman show coming to Union Colony Civic Center features two big stars Vicki Lawrence and her obnoxiously straight talking character Mama on Saturday, January 29.
Vicki Lawrence and Mama: A Two Woman Show, features Lawrence, the Emmy Award-winning comedian, as herself and as Mama.
First there's Lawrence, whose singing career includes her 1973 hit single, "The Night the Lights Went Out in Georgia," and whose acting career includes numerous stage and television credits, including 11 years on the popular TV variety series "The Carol Burnett Show" and host of the TV game show, "Win, Lose or Draw."
And there's Thelma Harper, also known as Mama, the cantankerous old woman that Lawrence played on "The Carol Burnett Show" and her spin-off TV series, "Mama's Family."
When Mama comes out on stage during the show, Lawrence says she likes to talk about current events, and can be expected to give her most outrageous opinions on a variety of timely subjects.
"I need to push the envelope with her," she says. "Whether it's Lindsay Lohan, Tiger Woods or bed bugs, I want her to address anything in the news. And Mama sings, too."
When she's not making people laugh as Mama, she is a spokeswoman for the Humane Society, the American Heart Association and other charities benefiting cancer research. She also speaks to women's organizations about her life and career.
Don't miss this one time opportunity to see Vicki Lawrence and Mama at the Union Colony Civic Center on January 29.  Tickets range from $18 to $28 and can be purchased through the UCCC Ticket Office at 970-356-5000 or online to UCSTARS.COM. The Ticket Office is open Monday – Friday, noon – 6:00 pm, Saturdays noon – 4:00 pm.
Show Sponsor: K99 Colorado's Best and Most Country

Print This Post