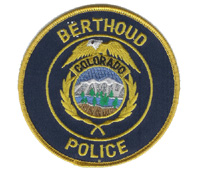 Berthoud Police Beat — May, 2011
Sunday, May 1
In a case of mischief, yard lights were broken in the area of Kansas Avenue and Greenwood Drive. Report at 3:26 a.m.
A mailbox was knocked off of its post and damaged in the 300 block of South Eighth Street. Reported at 3:48 a.m.
More mischief in Hillsdale Subdivision when a resident in the 500 bock of South Ninth Street reported that someone had dumped trash on her vehicle.
A resident in the 100 block of E Michigan Avenue found catsup on the front door.
Police found the barking dogs on Munson Court and issued a written warning to the owners.
Boxes in the street on Mountain Avenue constituted a road hazard and were removed by police.
Monday, May 2
A calf was reported to be on the road at Spartan Avenue and County Road 17 at 4:22 p.m. The calf is listed as a road hazard and the situation was handled by the officer.
Tuesday, May 3
A South Ninth Street resident reported a door-to-door salesman. However, he was not selling anything.
Police investigated a report of illegal parking on Longview Avenue. They found a truck legally parked and having current license.
A caller from Lake Avenue reported hearing an air gun being shot.
A solicitor selling vacuums door to door on East Colorado Avenue was gone when police arrived.
Police found no criminal violation by a dozen Juveniles playing football in Bein Park at 9:30 p.m.
Wednesday, May 4
Harassment on Lake Avenue is related to "neighbor problems."
A Fourth Street resident was issued a written warning for burning trash.
Several middle school age juveniles climbing on the roof of the Wayside Inn. Police intervened and citations were issued to five 14-year-old juvenile males and one 13-year-old juvenile male. Two of the boys were from Weld County, two from Longmont and two from Berthoud. They were charged with trespass.
It was hit and run accident of sorts in the 1700 block of Wales Drive. The vehicle was driving down a bike path when the driver went off the path and damaged a fence. He ran away on foot, but was captured. The driver. Geoffery Hogan, a 31-year-old transient was arrested and charged with driving while license under restraint, careless driving and obstructing a police officer. The vehicle was towed and he went to jail.
Thursday, May 5
The suspicious group at the water tower was chamber members having their photograph taken.
A 16-year-old Loveland resident was charged with careless driving and leaving the scene of an accident without giving information following a motor vehicle accident in the 800 block of Spartan Avenue.
A juvenile was issued a summons at the high school for having an exceedingly loud radio playing in his car.
Police assisted Berthoud fire at the scene of a grass fire on County Road 15 next to the railroad tracks. Witnesses said a passing train caused the fire.
A resident in the 800 block of Greenwood Avenue reported damage to solar powered lights. The case is being classified as criminal mischief.
Friday, May 6
Police made several early morning (before 4 a.m.) traffic stops.
Police investigated a hit-and-run accident at the high school.
At 11 p.m. police received a report of an unlocked vehicle with the key in the ignition at 290 Mountain Avenue. An officer investigated
Saturday, May 7
A barking dog reported at First Street and Mountain Avenue had ceased barking by the time police arrived at the location.
A dog-at-large in the 1700 block of Exeter Street went to the high school to avoid capture.
Loud music in the 1200 block of Elm Drive prompted a visit by police who advised the resident to "turn it down."
Someone thought it suspicious that a person in dark clothing was running around in the 1000 block of First Street after 10 p.m. Police were unable to locate a suspect.
More reported suspicious circumstances were reported in the 500 block of Fourth Street just before midnight. Police found a person sitting in their vehicle, not a criminal violation.
A traffic stop in the 400 block of Third Street resulted in issuance of a summons to Steven K Johnston, a 28-year-old Berthoud resident, charging Failed to Yield Right of Way to Slow Moving Vehicle, Drove while License Revoked as a Habitual Offender and Possession of Drug Paraphernalia.
Sunday, May 8
Police made four traffic stops between midnight and 2 a.m. and another just before 6 a.m.
Loose dogs on East Colorado Avenue were gone when police arrived.
A Berthoud officer intervened in a case of road-rage at Sixth Street and Massachusetts Avenue.
Sherry L. Henry, a 23-year-old Berthoud resident was arrested in the 1500 block of Fourth Street, charged with Harassment (Domestic Violence).
Police finished off the day with two barking dog complaints. In the first case on Indiana Avenue, the officer spoke to the owner. In the second incident, in the 300 block of Seventh Street, the dog was in the back yard and being quiet when the officer arrived.
Monday, May 9
A brown and tan dog was reported running loose near Turner Middle School. It was gone when police arrived.
Then there were two dogs-at-large in the 100 block of Third Street. These animals ended up at the Larimer County Humane Society and the owner received a summons.
A few minutes later, a complaint came from the 800 block of Longview about more barking dogs. The owner received a verbal warning.
A Fifth Street resident discovered that her purse was missing after she returned home from a shopping trip in downtown Berthoud. Personnel of the Parks and Recreation Department recovered the purse. The valuable items had been taken.  The case is under investigation.
Police were able to locate the "run" car from Friday's hit and run at the high school
Unsecured construction material blew off a truck on Highway 56 at U.S 287 and hit another vehicle, causing damage.
Tuesday, May 10
Police responded to a motor vehicle accident at the high school. A vehicle hit a parked car.
While at the school, police dealt with an out of control juvenile in the high school office.
Police went to the 200 block of Seventh Street after a complaint about a van with the radio playing loudly. The van was gone when police arrived.
Police responded to a report of a trespass in progress at the water treatment plant. They discovered the Town Manager and board members touring the facility.
A physical disturbance in the 900 block of Seventh Street is still under investigation.
Police responded to a REDDI report for a driver on Highway 287. By the time they arrived the drunk driver had already caused an accident with injuries at the Highway 56 intersection. The intoxicated driver then went off the road a half-mile further down the highway. She was arrested and taken to the Larimer County Jail.
Wednesday, May 11
A DUI incident in the 900 block of Bunyan Avenue is under investigation.
A motor vehicle at Mountain Avenue and First Street caused personal injury.
A wallet was found on Hubble Street and returned to the owner.

Print This Post