The Western Academic Talent Search recognizes Chase Rayment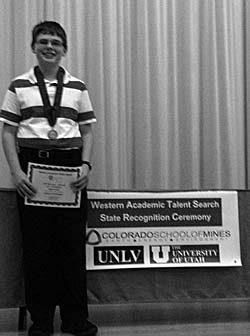 DENVER—The Western Academic Talent Search (WATS) celebrated the top scoring students from a seven-state region for the 2010-2011 academic year last Saturday at the Colorado School of Mines. Chase Rayment, from Berthoud, was recognized for achieving the highest eighth grade composite ACT score (33) in Colorado among eligible students in grades three through nine. The program assesses and recognizes academically talented youth in the top 95% of nationally-normed standardized test scorers. Chase was additionally recognized at the state ceremony for the highest ACT score in Science (35) and English (34) of participating eighth grade WATS students in Colorado.
Each year, top scoring WATS participants in Colorado, Nevada, Utah, Idaho, Montana, New Mexico, and Wyoming are honored in the spring at a WATS State Recognition Ceremony.  Since grade level testing often does not reveal the upper limits of gifted students' abilities, talent search participants are offered the opportunity to take a college entrance test.  By using a more difficult test (one with a higher "ceiling"), the academic talent search provides valuable assessment information to help students recognize and develop their academic strengths and identify educational programming that best matches their interests, pace, and abilities.
Celebrating its 29th year, WATS is part of the national academic talent search program offered regionally through the Center for Bright Kids in affiliation with Johns Hopkins, Duke, and Northwestern Universities, identifying over 3,000 students in the Rocky Mountain region. For more information regarding participation in the Western Academic Talent Search or CBK Summer Programs based on the talent development model, please contact the WATS offices at 303-428-2634 or cbk@centerforbrightkids.org . More information on the Center for Bright Kids Regional Talent Development Center is available at www.centerforbrightkids.org

Print This Post