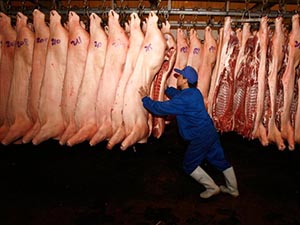 Centennial, Colo. — March 23, 2018 — In reaction to tariffs on steel and aluminum exports announced by President Trump earlier this month, China has threatened retaliation with tariffs on U.S. exports, including pork, wine, fruit and other agricultural products — the impacts of which, would negatively impact farmers and ranchers here in Colorado.
"The threat of these penalties against agriculture would stunt markets here in Colorado for many of our producers," says Don Shawcroft, president of the Colorado Farm Bureau. "Commodity prices, already soft due to oversupply will be pushed ever lower. These tariffs will hit our producers particularly hard."
Chinese penalties on U.S. exports would hit the pork industry the hardest with a 25 percent tariff on various pork products. While other commodities such as soybeans and sorghum have not yet been targeted, expectations are that those items are next if the U.S. and China cannot come to an agreement. Soybeans are the U.S.'s number one export to China and are a major target for retaliation.
Colorado currently exports about 6 percent of its food and agriculture exports to China, according to the Colorado Department of Agriculture. While most of that comes in the form of beef products not yet targeted by China, the state's exports of sorghum are significant. Though exports to China are less than to countries like Mexico and Canada, the risk of losing future product markets or slowing the growth of those markets is particularly concerning. The U.S. only recently achieved access to export beef to China, and new markets are particularly vulnerable in a trade dispute. It's also important to note that the effect on non-tariffed agriculture products would be problematic.
"The impacts are bigger than just those items listed for penalties by China," says Shawcroft. "Colorado produces a lot of feed for pork and these kinds of secondary markets will also be hit hard. The long-term impact on agriculture is bigger than on one specific commodity. American farmers export more than 20 percent of their production, and these tariffs threaten the fragile health of the entire agriculture industry."
Farm income across commodities has fallen by about 50 percent over the last four years and retaliation by trade partners makes the situation even worse. The new policy also threatens to upend the delicate renegotiation of the North American Free Trade Agreement. The agreement is a huge positive for Colorado agriculture, and it's most valuable export, beef. Anything that could negatively impact agriculture's position in a renegotiated NAFTA will further damage farm finances across the state.
Colorado Farm Bureau represents members that produce every type of product grown in Colorado. Along with our partners at the American Farm Bureau Federation and other trade coalition members, the organization continues to express concerns about retaliation by China and other trade partners as the new steel and aluminum tariffs go into effect.
Editors Note: There is a high probability that most of these agribusiness people voted for Donald Trump and thus tacitly agreed to this trade war and may become its first casualties.
###
Colorado Farm Bureau is the state's largest grassroots organization with more than 25,000 members across Colorado. CFB seeks to promote and protect the future of agriculture and rural values.

Print This Post