Prestigious CU Denver Program Accepts Thompson Valley Senior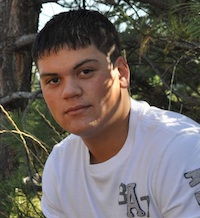 Thompson Valley High School catcher Daniel Grine was born prematurely, has been monitored for heart problems and has battled asthma. Despite all that he's been a two-year starter behind the plate for the Eagles, has just been named a recipient of a Daniels Fund Scholarship and has been accepted into the highly selective BA/BS-MD combined degree program at the University of Colorado Denver.  This fall, Grine will join nine other standout scholars from around the state entering the unique program. "Because of all those medical issues I had when I was a child," he said, "I have always wanted to be a doctor since I was a little boy."
The BA/BS-MD program is a partnership between CU Denver's College of Liberal Arts and Sciences and the CU School of Medicine.  In a highly competitive selection process, only ten graduating high school seniors statewide are accepted into the program annually. This year there were 102 applicants.  45 of those applicants made it as far as the interview stage.
Being accepted enables the students to earn a reserved seat in the CU School of Medicine at the Anschutz Medical Campus, provided she/he meets a specific set of required standards. Students spend the first four years of the eight-year program earning their bachelor's degree at CU Denver.
Grine is a hard worker who's been consistently employed since 2009. He's been saving money for college his entire life.  Receiving the Daniels Fund Scholarship will help relieve the financial burden by covering the remaining expenses on his four years of undergraduate studies after all other scholarships and financial aid have been applied.
Grine credits his work ethic to his family and describes jumping in the air when he heard he'd been accepted into the CU Denver program. "I screamed and so did my parents," he said. "Right now I'm considering becoming a surgeon. This program gives me the opportunity to realize my life goal of working and helping people."
On the baseball field, Eagles coach Jay Denning says having Grine at the catcher position is like having another defensive coach on the field.  "He's so smart," Denning
says.  "He calls nearly every pitch in every game."
The University of Colorado Denver BA/BS-MD combined degree program is designed to address the healthcare needs of Colorado communities. It focuses on assembling outstanding students with broadly diverse backgrounds who intend to practice medicine in Colorado.  When this year's class enters CU Denver in the fall, it will include students from the eastern plains, northern Colorado, the mountains, and the Denver metro area. This is the fourth class to start the program. They will enter the School of Medicine in the fall of 2017.

Print This Post