Date:   October 4, 2011
Larimer County Sheriff's Office deputies have arrested Frank Ray Runyan Jr., DOB: 010478, of Fort Collins, on several felony counts including two counts of 1st Degree Assault on a Police Officer.
Deputies were called to the 8100-block of Taylor Court in Fort Collins at approximately 5:00 p.m. yesterday on the report of a domestic disturbance. Upon arrival, deputies attempted to talk with Frank Runyan about the complaint. Mr. Runyan attempted to leave the scene in his white Ford pickup allegedly striking deputies multiple times with the vehicle and hitting a tree in the front yard of his residence.
Deputies were successful in stopping him from leaving in the vehicle; however, Mr. Runyan then fled on foot. After fleeing the area on foot and being chased by deputies, Mr. Runyan circled back around and was then successful in leaving the scene in his vehicle, once again allegedly hitting deputies with the vehicle.
Mr. Runyan was finally arrested at gunpoint from his vehicle. A significant amount of methamphetamine and drug paraphernalia was subsequently found in and near the vehicle.
The deputies did not suffer significant injuries. Mr. Runyan was treated at the scene for minor injuries.
Frank Runyan was arrested for:
18-03-202 Assault in the First Degree Against Police Officer, two counts, Felony 3
18-18-405 Unlawful Distribution, Sale of Schedule II Controlled Substance, Felony 4
18-18-405 Unlawful Possession of Schedule II Controlled Substance, Felony 4
18-09-116.5 Vehicular Eluding, Felony 5
18-03-204 Assault in the Third Degree, Misdemeanor 1
18-03-206 Menacing, Misdemeanor 3
18-18-426 Possession of Drug Paraphernalia, Petty Offense 2
18-06-801 Domestic Violence, Enhancement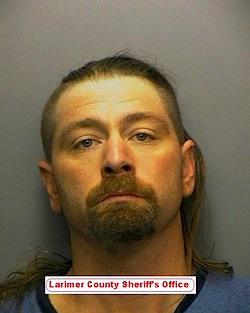 Mr. Runyan's bond has been set at $500,000. His next court date will be October 13 at 8:30 a.m.
The charge(s) are merely an accusation and the defendant is presumed innocent until and unless proven guilty.

Print This Post