Larimer County Sheriff Press Release, April 24, 2017
On February 14, 2017, at approximately 5:41 a.m., a Larimer County Sheriff's Office Berthoud Squad deputy received a telephone call from a Berthoud High School staff member reporting significant damage to the school building. A deputy responded to 850 Spartan Avenue and located damage to a foyer/walkway on the west side of the school. It appeared a vehicle had driven into the building through a set of glass doors and exited through a second set of glass doors.
No suspect vehicles were located on school property or in the immediate area and deputies searched the building for potential suspects, but none were found. The Berthoud Fire Department was also called to the scene to check the structural integrity of the building. The school was not occupied at the time the damage occurred. The damage to the building was estimated at more than $35,000.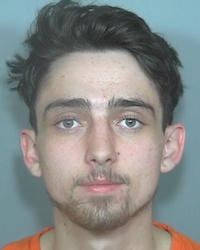 Through the course of the investigation, Skylar Hill (12/02/1997) of Frederick, Colorado, was identified as a suspect. In late March, LCSO investigators learned Hill was being held in the Weld County Jail on unrelated charges. Investigators interviewed Hill at the jail and established probable cause to pursue charges against Hill for driving a vehicle through the Berthoud High School building.
LCSO investigators also worked with the Boulder Police Department and determined that Hill had stolen the vehicle in the City of Boulder, drove to Berthoud, and then drove through the school. Boulder PD has several pending felony charges against Hill involving the stolen vehicle and it was decided the Boulder County District Attorney's Office would seek the additional charge of felony criminal mischief against Hill for the damage he caused to Berthoud High School.
The charges are merely an accusation and the defendant is presumed innocent until, and unless, proven guilty.

Print This Post