Berthoud Colorado, June 22, 2017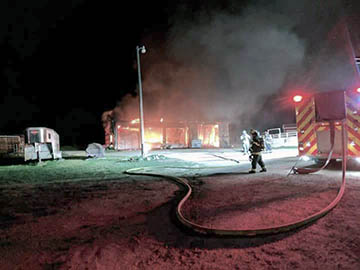 At approximately 3:05 a.m. Berthoud Fire Protection District responded to a structure fire on S. County Rd. 21 in southwest of Berthoud. The garage structure was fully engulfed in flames at time of arrival, however it posed no threat to nearby structures. Berthoud Fire responded to the scene with three engine companies . In addition, Loveland Fire Rescue Authority assisted with one engine. Thompson Valley Emergency Services was also included in the initial response to provide medical aid. Larimer County Sheriff's office aided in traffic control on S. County Rd. 21 in the early morning hours.
The homeowner was checked for injuries due to his proximity to the flames during his attempt to relocate his three horses from near the structure prior to the arrival of first-responders. The homeowner was cleared by paramedics as a precaution with no injuries. No horses or livestock were injured or lost in the fire.
Fire crews were engaged for nearly seven hours in putting out the fire. Water and foam were used to extinguish flames, and crews remained on scene mitigating hot spots in the debris. No details about the cause of the fire have been released at this time, investigations are ongoing.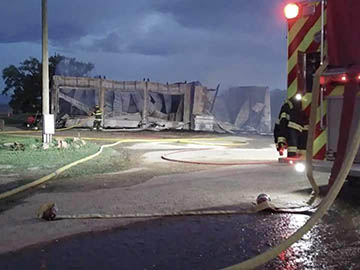 This was just one of 12 calls Berthoud Fire's A-shift responded to within a 24-hour period.

Print This Post