Homicide Investigation
Larimer County Sheriff's office, June 17, 2016
Tanner George Flores (10/31/1997) was booked into the Larimer County Jail at 2:36 pm today on a warrant (bond not set) for:
Murder in the First Degree – Class 1 Felony – C.R.S. 18-3-102(1)(a);
Felony Murder – Class 1 Felony – C.R.S. 18-3-102(1)(b); and
Second Degree Kidnapping – Class 3 Felony – C.R.S. 18-3-302(1).
A booking photo of Flores is attached. No further information will be released as this is an ongoing investigation. Previous press releases regarding this investigation are available at http://larimersheriff.org/press-release/homicide-investigation.
The charges are merely an accusation and the defendant is presumed innocent until, and unless, proven guilty.
Homicide Investigation Evidence Search
Larimer County Sheriff Press Release: Date: 6/17/16
On June 17, 2016, at approximately 8:00 am, Larimer County Sheriff's Office investigators and members of the FBI Evidence Response Team began searching the area of Interstate 25 and Highway 66 as part of the ongoing homicide investigation involving Tanner Flores.
This search is not related to the Northern Colorado Shooting Task Force.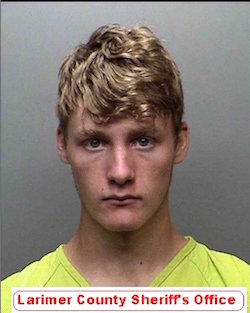 Tanner Flores

Print This Post