The Foothills Audubon Club will be having its first program of 2017 on Monday, Jan. 9 at 7:00 p.m. at the Berthoud Community Center located at 248 Welch Avenue, Berthoud, Colorado.
One of the final installments in the PLANET EARTH series, this segment entitled Saving Species examines the conservation efforts taking place across the globe to preserve our planet's wildlife and biodiversity. Experts from such organizations such as the World Wildlife Fund, Friends of the Earth, Nature Conservancy, Ocean Alliance, World Conservation Union and the Durrell Wildlife Conservation Trust weigh in with the filmmakers of PLANET EARTH on the strategies of conservation entities and local populations throughout the world.
As they note, "Saving the wilderness, saving ecosystems, saving the planet, and saving humanity all have to start somewhere."
After the program, refreshments will be served. This event is free and open to the public, all ages are welcome!
For more information, please call (970) 980-7932 or (970) 613-0966.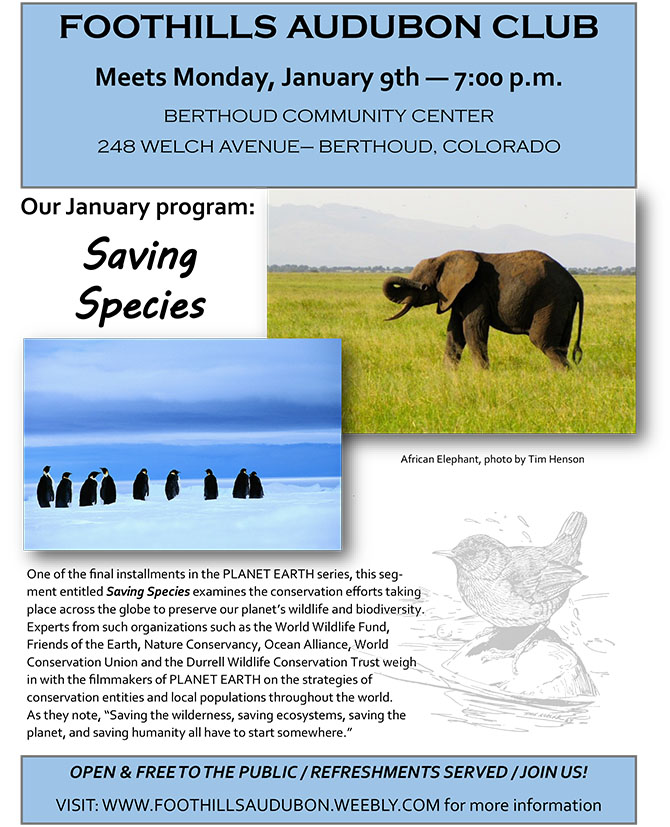 Print This Post