Boys team Finishes in Sixth Place
By Dan Karpiel
Sports Writer
The Berthoud girls track and field team continued their outstanding 2011 season at the Patriot League Championships hosted at Platte Valley High School on Friday afternoon. The Lady Spartans took first place in team competition with 152.50 points, winning six separate events. The boys team finished in the middle of the pack in sixth place after tallying 60.50 points. As a team, Berthoud finished behind Lyons and Eaton for third overall with a combined 213.00 points.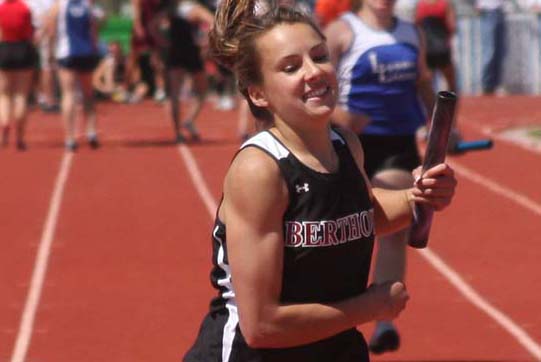 Spartan senior Julia Leonard won first in both the 100m and 300m high hurdles events while junior Courtney Mills took home the blue ribbon in the triple jump with an event record jump of 37 feet, 5 inches. Mills was also able to take second place in the 100m dash, 200m dash and the long jump. Leonard, along with Ashley Prescott, Mollie Bonds and Hannah Kirk, won the 800m sprint medley and Prescott, Bonds, Kirk and Cheyenne Hall won the 4x100m relay. Both relay teams set event records. Senior Tanya Bezanson won the girls shot put event with a 39 foot, 9.50 inch throw.
The boys team, while not faring as well as their female counterparts, did manage to earn several runner-up finishes. Senior Steven Fiske took second in the 200m dash as did sophomore Axel Ayala in the 400m run. In the 300m hurdles, Berthoud senior Cooper Wynn finished just three-tenths behind Mead's Jared Hernandez for second place.
The Spartans compete in the state track championships held at Jefferson County Stadium in Lakewood May 19-21.
Photos by Dan Karpiel
[nggallery id=106]
Boys 100m Dash
5. Troy Johnson 11.42s
10. Brad Novell 11.67s
16. Caleb Price 12.33s
Girls 100m Dash
2. Courtney Mills 12.61s
4. Hannah Kirk 12.90s
6. Tracey DeVittorio 13.38s
Boys 200m Dash
4. Troy Johnson 22.94s
7. Colton Moore 23.08s
9. Steven Fiske 23.28s
Girls 200m Dash
2. Courtney Mills 25.47s
3. Ashley Prescott 26.45s
5. Tracey DeVittorio 26.86s
Boys 400m Dash
2. Steven Fiske 50.69s
Girls 400m Dash
3. Mollie Bonds 60.83s
Boys 800m Run
2. Axel Ayala 2:05.48min
12. Ryan Pea 2:17.90min
Girls 800m Run
15. Ally Klaes 2:42.92min
16. Dillon Fagler 2:45.88min
Boys 1600m Run
9. John Kemp 5:18.23min
Girls 1600m Run
<<BHS athletes did not compete>>
Boys 3200m Run
<<BHS athletes did not compete>>
Girls 3200m Run
5. Emma Degnan 13:17.10min
Boys 110m High Hurdles
8. Cooper Wynn 17.53s
13. Jason Van Hare 19.55s
Girls 100m High Hurdles
1. Julia Leonard 16.36s
3. Mollie Bonds 16.93s
11. Emelia Applemenn 18.59s
Boys 300m High Hurdles
2. Cooper Wynn 41.61s
13. Jason Van Hare 47.84s
Girls 300m High Hurdles
1. Julia Leonard 47.14s
13. Sara Nienaber 55.43s
14. Emelia Applemann 55.87s
Boys 4x100m Relay
3. Berthoud 44.34s
Girls 4x100m Relay
1. Berthoud 49.65s
Boys 4x200m Relay
2. Berthoud 1:30.95min
Girls 4x200m Relay
2. Berthoud 1:44.79min
Boys 4x400m Relay
9. Berthoud 3:42.815min
Girls 4x400m Relay
7. Berthoud 4:27.17min
Boys 4x800m Relay
4. Berthoud 8:39.59min
Girls 4x800m Relay
5. Berthoud 10:32.30min
Girls 800m Sprint Medley
1. Berthoud 1:50.43min
Boys High Jump
11. Chase Fraser 5'4.00"
Girls High Jump
5. Sara Nienaber 4'7.00"
Boys Pole Vault
<<BHS athletes did not compete>>
Girls Pole Vault
<<BHS athletes did not compete>>
Boys Long Jump
10. Chase Fraser 18'9.00"
15. Mic Nienaber 17'5.00"
19. Caleb Price 16'9.50"
Girls Long Jump
2. Courtney Mills 17'4.75"
3. Cheyenne Hall 16'7.25"
9. Shallyn Fahrenbruck 13'10.00"
Boys Triple Jump
3. Mic Nienaber 39'5.00"
Girls Triple Jump
1. Courtney Mills 37'5.00"
3. Cheyenne Hall 35'4.50"
5. Ally Klaes 34'2.00"
Boys Shot Put
15. Brok Diffendaffer 37'3.75"
20. Tommy Doles 34'1.50"
28. Alex Hughes 32'5.50"
Girls Shot Put
1. Tanya Bezanson 39'9.50"
21. Shelby Coyle 23'6.50"
24. Lynda Hutchins 23'2.00"
Boys Discus Throw
8. Alex Hughes 113'2.00"
22. Brok Diffendaffer 97'7.00"
Girls Discus Throw
6. Dillon Fagler 102'9.00"
17. Lynda Hutchins 71'0.00"

Print This Post