A Comedy with No Identity
By Thomas N.
Meet the Parents,

the first film in this series,

was a funny movie. It was an original comedy about a male nurse with the hilarious name of Gaylord "Greg" Focker (Ben Stiller) and his girlfriend Pam (Teri Polo). The story encompassed Greg's meeting his future in-laws Jack Burns (Robert De Niro), an uptight, overly protective ex- CIA agent, and his wife Dina (Blythe Danner). The film's comedy was fresh and its style was unique and witty. The sequel,

Meet the Fockers

introduced Greg's parents (Dustin Hoffman and Barbra Streisand) and the humor is similar to the Stillers' previous movie,

There's Something About Mary

.

Meet the Fockers

was a broad departure from

Meet the Parents

. While still funny, the

Meet the Fockers

humor was more sexual and raunchier than its predecessor.
The third installment,

Little Fockers

, focuses on the humor of this dysfunctional family by adding the antics of children while keeping the raunchy sexual jokes from

Meet the Fockers

. Unfortunately, this movie bounces
schizophrenically
between two styles of comedy that do not mesh well. It does not have enough of either style to make the film either strong or memorable. While there is a great deal of humor written into the script, it is stale and tiring in this third installment.
The plot of this film is so predictable that it is barely worth mentioning. Five years after the events of the second movie, Grandparents De Niro and Danner have come to town for their grand-children's birthday. Everyone has a good time and the family grows stronger together. Just Kidding! Of course everything goes wrong. Stiller is approached by a sexy pharmaceutical rep to endorse an erectile dysfunction medication. His father-in-law believes that Stiller is having an affair with the sexy rep. There is nothing in this plot that has not been in hundreds of other comedies.
Of course plot is not always an essential element of comedy. Airplane! did not have much of a plot, but it did have original jokes and puns, which pulled the movie together and the audience was drawn into the comedy waiting for the next laugh.

Little Fockers

does not have a good plot or originality. The schizophrenic jumping of humor is seen in attempting to combine sexual humor with the antics of a comedy featuring young children. In one scene Stiller is forced to give an injection of adrenalin to De Niro to help relieve him of an erection caused by the medication Stiller is endorsing. In another scene Stiller's son vomits all over him after his dad forced him to eat lasagna. This is just one example of the film attempting to juggle two styles of humor that are not funny together. What would be most humorous is if they don't make a fourth movie.
Don't waste your money on

Little Fockers

. How did this movie beat True Grit at the box office on opening weekend?
A forgettable 3 out of 10
Run time 98
Rated PG-13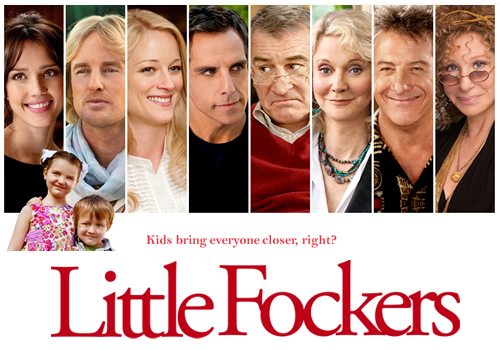 Print This Post