Man Arrested in Assault on Colorado State Patrol Trooper
Larimer County Sheriff's Office deputies, LCSO Criminal Impact Unit investigators, Fort Collins Police Services officers and canine unit all responded to assist a Colorado State Patrol trooper who received minor injuries during a vehicle stop last night.
The Colorado State Patrol trooper had stopped a vehicle near North College Avenue and Willox Lane last night at around 8:00 p.m.  While the trooper was standing at the driver's window of the vehicle the driver suddenly put the car in gear and began to speed off.  The trooper grabbed the driver's arm and was subsequently dragged approximately 30 feet.  As the vehicle approached a brick wall the trooper let go of the driver and fell to the ground.
The vehicle was later found abandoned in a ditch near Willox Lane and Shields Street.  The driver had fled the vehicle.  A search of the area was immediately begun by the Larimer County Sheriff's Office and Fort Collins Police Services including a canine unit.  The driver was subsequently located  hiding in the 200-block of Highway 287.
The trooper went to Poudre Valley Hospital where he was treated for minor injuries and released.
The driver of the vehicle was identified as Juan Alvarez, DOB: 030869, of Fort Collins.  Alvarez was arrested by LCSO CIU investigators and charged with the following offenses:
CRS 18-03-0202           1st Degree Assault, a class three felony
CRS 18-09-0116.5        Vehicular Eluding, a class four felony
CRS 42-02-0206           Driving after Revocation – Habitual Traffic Offender, a class six felony
CRS 42-04-1301           Driving under the Influence, a misdemeanor
CRS 42-04-1301(2)(a)  Drove Vehicle when BAC .08 or more, a misdemeanor
CRS 42-04-1401           Reckless Driving, a class one traffic infraction
CRS 42-04-1101           Speeding, a class "A" traffic infraction
Alvarez remains in the Larimer County Jail on a $60,000 bond.  He was not injured during the incident.
No further information is available at this time.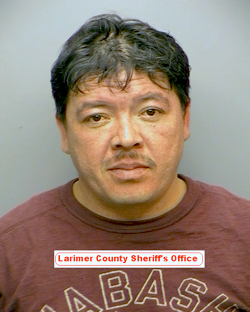 Anyone with information regarding this or any other crime is asked to call Larimer County Sheriff's Office at 970-416-1985 or Crime Stoppers at 970-221-6868 where you will remain anonymous and possibly be eligible for a cash reward.

Print This Post