Senate candidate Cory Gardner's campaign sent out a press release on Monday claiming endorsement by the non-partisan 'No Labels' group.
Foul, calls ColoradoPols.com, saying, "UPDATE: Hold everything, it looks like Gardner wasn't completely honest about this little "endorsement,"
[A] press release from Gardner's campaign [claimed]: "Bipartisan "No Labels" group endorses Cory Gardner."
But a spokesman for the group later explained to FOX31 Denver that it is "an implied endorsement" — and that Udall, should he join the group "No Labels", is eligible for the very same "endorsement." [Pols emphasis]
"We'd be happy to have Senator Udall sign on, and glad to give him a Seal of Approval as well," Mark McKinnon of No Labels told FOX31 Denver Monday afternoon…
–       See more at: http://coloradopols.com/diary/57345/no-labels-and-cory-gardner-is-this-a-joke#sthash.S2CyYNTp.dpuf
Here is the press release:

Bipartisan "No Labels" group endorses Cory Gardner

First Senate candidate to receive group's backing

Denver, CO – A leading national bipartisan solutions group announced today it is endorsing Cory Gardner for Colorado's U.S. Senate seat. Gardner is the first Senate candidate to receive the group's endorsement this election cycle.
 
"I'm honored to receive No Labels' support in the fight to bring real leadership and solutions to the United States Senate," Gardner said. "If we're going to tackle the great challenges that face our country, we will need to be able to work with both sides of the aisle. I'm proud of my bipartisan efforts in the House of Representatives and the work I've done with No Labels. I look forward to bringing this spirit of bipartisanship to the Senate."

"We're proud to award the Problem Solver Seal of Approval to Congressman Gardner," said Mark McKinnon of No Labels. "His vision of success for the people of Colorado and the country incorporates a commitment to consensus building that we believe is critical for tackling some of the nation's most pressing issues." 
 
Gardner is one of No Labels' Problem Solvers — a group of legislators from both parties and both chambers who have committed to open dialogue and finding real solutions to our nations challenges. Gardner's energy efficiency legislation, which he introduced with Rep. Peter Welch (D-VT), has been highlighted by the group as part of their "Make Government Work!" initiative.
 
No Labels was created in 2010 and is currently led by Honorary Co-Chairs Jon Huntsman, the Republican former governor of Utah, and Joe Manchin, a Democrat from West Virginia currently serving in the U.S. Senate. The No Labels agenda includes job-creation, a balanced budget, and energy independence.
Following Gardner's press release, Fox31 updated their story thus: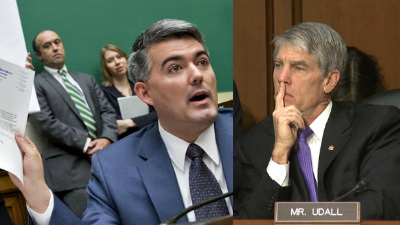 DENVER — A group founded by moderate lawmakers from both sides of the aisle aiming to push politicians back toward the eroding political center is endorsing Republican Cory Gardner in his campaign to unseat Democratic U.S. Sen. Mark Udall.
At least, that's how it was presented in a press release from Gardner's campaign with the headline: "Bipartisan "No Labels" group endorses Cory Gardner."
But a spokesman for the group later explained to FOX31 Denver that it is "an implied endorsement" — and that Udall, should he join the group "No Labels", is eligible for the very same "endorsement."
"We'd be happy to have Senator Udall sign on, and glad to give him a Seal of Approval as well," Mark McKinnon of No Labels told FOX31 Denver Monday afternoon. "We asked his office a number of times over the last year." …


Print This Post