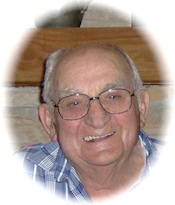 Alban J. Schmidt, 90, of  Berthoud, CO passed away August 8, 2012 at Berthoud Living Center.  He was born June 23, 1922 in Liebenthal, Kansas to Stephen and Theresa (Wasinger) Schmidt.
Al grew up on a farm, graduated from St. Joseph's Military Academy, in Hays, Kansas and received a MS degree from University of Denver in Mechanical Engineering in 1949.
Al served in the Army Air Corps and then served 20 years in the Air Force reserves.
Al Married Mary Groll of Pana, Illinois in 1949. They lived in Denver and moved to Berthoud in 1972.
Al worked for Frontier Airlines as personnel manager, then Cosbro Manufacturing partnership and half owner, which later became Refabeo Inc. After moving to Berthoud he built and started Berthoud Rose Farm Inc., a wholesale grower of cut roses, retiring in 2005.
He was a member of St. John the Baptist Catholic Church, Colorado Greenhouse Growers Assoc., Rose's Inc., Town of Berthoud board member, Berthoud National Bank board of directors, and Colorado Air National Guard for 20 years.
Al enjoyed gardening, aviation, politics, football, business, space science, reading, TV, barbeque and cooking.
He was preceded in death by his parents, his wife Mary, son John, brother Albert, and four sister's Cecelia Obenhaus, Theresa Mesch, Judy Stahlin and Georgina Schmidt.
Al is survived by three sons; Robert and wife Lynn, David, and Steven and wife Rose, three daughters; Susan Agiewich husband Jerry, Lisa Schmidt Primus husband Chris, Katie Feder husband Michael, grandchildren; Danielle, Kristen, Tricia, Crista, Baxter, Quincy, Miriam, Lily, A.J., Lisa, Max, Mimi, great grandchild Katelyn Agiewich, and sister Paula Harless.
Memorial service will be 4:00 p.m, Saturday, Aug. 11, 2012 at Ahlberg Funeral Chapel. Mass of  Resurrection will be 11:00 a.m, Wednesday, Aug. 15, 2012 at St. John the Baptist Catholic Church Longmont. Inurnment to follow at Berthoud Greenlawn Cemetery. Share condolences at ahlbergfuneralchapel.com.

Print This Post