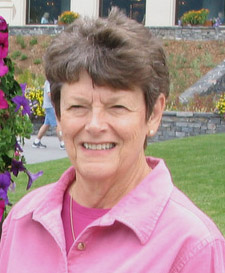 Elizabeth Ann 'Jo' Geiger, 78, passed away November 24, 2018 at her home in Berthoud surrounded by loving family.
She was born October 20, 1940 in St. Paul, Minnesota to Frank and Rosemary (Trueman) Keller. Jo graduated from St. Joseph Academy in St. Paul and received her training as a registered nurse at St. Katherine Hospital in Minneapolis. She then moved to Colorado.
On July 1, 1967 she married Gerry Geiger in Denver.
Jo worked as a nurse for several years in private practice and as a psychiatric nurse at Fort Logan Mental Health Center.
She left nursing to become a full-time homemaker and mother for her two daughters.
Jo later attended the Boulder School of Massage Therapy and graduated in 1985 as a Licensed Massage Therapist. She spent the next 16 years in massage therapy at several locations in Loveland and at her home in Berthoud. Jo retired in 2002.
She was a member of Light of Christ Ecumenical Catholic Church in Longmont and P.E.O. Chapter AS in Berthoud.
Jo enjoyed playing cards and was a member of several card groups. She and Gerry loved traveling in their RV with trips to Alaska, Canada and many National Parks. The also traveled outside the US including a trip to Costa Rica.
She was preceded in death by her parents and two sisters Carol Meyer and Janet Morrison.
Jo is survived by her husband Gerry, daughters Lara Ernsting (Craig) and Kirsten Olivet (Greg) and grandson Asher.
Memorial services will be held 11:00 am Monday, December 3, 2018 at Light of Christ Ecumenical Catholic Church, 1500 15th Ave. Longmont. Cremation entrusted to Ahlberg Funeral Chapel and Crematory. Inurnment at the Greenlawn Cemetery Columbarium, Berthoud. In lieu of flowers memorial contributions can be made to ALS Rocky Mountain Chapter or Halcyon Hospice. Share condolences at www.ahlbergfuneralchapel.com.

Print This Post