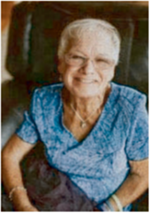 Everdina Annamarie "Grandma Diny" Pickert passed peacefully and went to be with the Lord on the morning of January 30th while lying in the arms of her true love. Her passing ended her courageous 7-year battle with pancreatic cancer. She was surrounded and supported by her loving family during the last days of her life.
Diny was born in Amsterdam on March 23, 1938 to her parents, Johann and Frances Broertjes Geerken. She and her family came to America when she was 16 and she met the love of her life, Brad Sr., shortly after her arrival in NY. They married in 1958 and raised four beautiful kids.
Her time in New York was spent milking, raising, and showing cattle. She also led a youth group at their church with her husband, attended all of her kids sporting events and sold sweet corn at the roadside stand.
They moved the family farm from New York to Berthoud in 1981 where she finished out her life.
She and Brad shared 59 years of marriage together. The celebration of life service will be held on Monday February 5 at 2:00 pm at Grace Place Church. 375 Meadowlark Drive, Berthoud. In lieu of flowers, memorial donations may be made to the Colorado Dairy Women at TBK Bank PO Box 629 Mead, CO 80542.

Print This Post