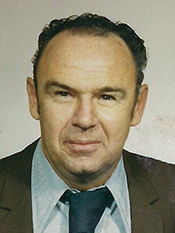 Floyd Raymond Bose was born to Rose Jane Matthews Bose and Raymond Marcus Bose on August 12, 1925, in Otis, Colorado. He passed away peacefully January 13, 2013, at Hospice of Northern Colorado at the age of 87 years.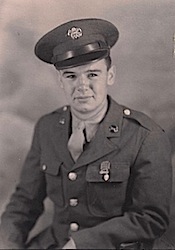 In 1943, Floyd joined the United States Army and served with the First Battalion of the 9th Infantry Regiment as an automatic rifleman during World War II. He was in Belgium, France, Germany, and Czechoslovakia. He was one of eight men out of 200 who were left after the break-thru in the Ardennes forest. The rest were captured, killed, or wounded.
Floyd married Rose Ellen Ison on May 31, 1945, and 3 daughters were born to this union: Regena Kae, Rena Fae, and Vicki Rae. Floyd and Rose were divorced in 1968.
Later he worked for Bose Produce, Ison Oil, Town of Otis, Washington County Grain Co., and Mackenzie Cabinet Co. in Greeley. He was a member of the Otis Volunteer Fire Department, Lions Club, Veterans of Foreign Wars, and served as a deacon for the First United Presbyterian Church in Otis. Floyd had a great love for dogs and had many loyal dog friends over the years. In his early years, he was active in sports, especially softball.
Floyd married Doris Evelyn Pottorff Thyne on August 2, 1975, in Honolulu, Hawaii. They lived in Greeley for over 40 years, operating Bose Cabinets and managing StorMor before their retirement.
He was preceded in death by his father and mother, and  infant brother.
Floyd is survived by his  wife, Doris Bose of Greeley; daughters, Vicki Clymer (Harley) of LaSalle, Regena Feldman (Dick) of Berthoud, and Rena Arens (Grant) of LaSalle; sisters, Virginia Wurtsmith of Evans, and Leota Corman of Yuma; step-children, Daniel Thyne, Thomas Thyne,  Robert Thyne (Glenna),  Deanna Kaye Morris (Stanley),  Theodore Thyne,  Ronald Thyne (Valerie),  Patricia Kreutzer (Francis),  Margaret Bailey (John),  Constance Moss (Russell); and many grandchildren, great grandchildren, nieces, and nephews.
Interment 10 a.m. Monday, January 21, at the Eaton Cemetery, service at 11 a.m. at the Allnutt Macy Chapel, 702 13th Street, Greeley, with a reception to follow in the Allnutt Reception Center. The family requests memorials be made to Hospice of Greeley, Veterans of Foreign Wars, or Weld County Humane Society in care of Allnutt Funeral Service, 702 13th Street, Greeley, Colorado 80631. Condolences and Tributes at Book of Memories

Print This Post