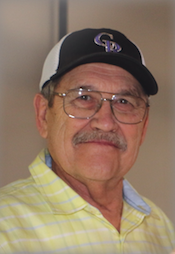 Jerry Mac Johnson, 76, of Berthoud, CO passed away suddenly but peacefully September 13, 2014. Jerry was born July 20, 1938 in Bells, Texas to Mearl C. and Maurine (Belew) Johnson
Jerry graduated from Bells High School in 1956 where he was a stellar multi-sport athlete. He served in the U.S. Army from 1961-1963.
Jerry and Billie Ruth Galyon, along with another couple, Otis Lee Bass and Morrisann Ramsey, eloped in 1959 and have enjoyed 55 years of marriage. They moved to Berthoud in 1976 after being transferred to IBM in Boulder. He was admired by his crew and known as "Colonel Johnson". He loved and remained great friends with many of the "guys". Jerry worked for IBM from 1967-1996, retiring as a department tech. His skills at work transferred to home as he was known for his ability to fix or build anything.
His love for sports, any sport, was evident. He was a walking sports encyclopedia and people were always impressed with his vast knowledge of all sports. He was a wonderful husband, daddy, grandfather, and great-grandfather. He loved his family and attended all of his kids and grandkids games and special events. He would spend endless hours with his family and wouldn't have wanted to be anywhere else.
Jerry was preceded in death by his parents, son Michael Johnson and a sister Sue Jernigan.
Jerry is survived by his wife Billie of Berthoud, son Mark Johnson (Chris) of Longmont, daughter Michelle Albanese (Tom) of San Diego, California, sister Linda Kay Rolen of Bells, Texas, grandchildren Lauren Johnson (Darrik Trent), Jacob and Alexis Albanese, great-granddaughter Kynlee Trent and a large extended loving family.
Services will be held at First Baptist Church, 105 S. Pecan St., Bells, Texas, 75414 on Saturday the September 20, 2014 at 11 am, lunch will follow service. A memorial will be held in Colorado on October 18, 2014. In lieu of flowers, memorial contributions may be made to First Baptist Church. Visit www.ahlbergfuneralchapel.com to view upcoming arrangements and share condolences.

Print This Post