Josephine Ann (Monteforte) Heidenreich passed away on Sept. 10, 2009, at the Pathways Hospice Care Center at McKee Medical Center.
She was born July 8, 1923, in Braintree, Mass., to Philip Monteforte and Lucy (Trigona) Monteforte.
She grew up in Braintree, where she met her husband-to-be, Donald Fredrick Heidenreich. They were married May 9, 1943. They made their home in Blue Springs, Mo., until moving to Westminster, Colo., in 1971. Donald preceded her in death on Dec. 6, 1997.  She then moved to Berthoud.
Josephine enjoyed her family, gardening, spending winters in Arizona with Donald, taking rides in the mountains, and especially listening to and attending concerts by André Rieu, the professional conductor of the Johann Strauss Orchestra. She and Donald shared a strong faith in the Lord.
Josephine is survived by her three children, Frederick J. Heidenreich and his wife Brenda Lee (Pierson) Heidenreich of Independence, Mo.; Bonnie (Heidenreich) Lambert, preceded in death by her husband David. Linda, who now resides in Hempstead, Texas, and William (Bill) G. Heidenreich and Susan Nelson, significant other, of Berthoud.
Josephine and Donald had three grandchildren, four great-grandchildren and one great-great-grandchild. Josephine was preceded in death by her parents and the following siblings: Mary Monteforte, Charles Monteforte and Anna Monteforte. Her remaining siblings are Stella DeSisto of Sarasota, Fla., and Rosario Monteforte of S. Braintree, Mass. She also has nieces and nephews who live throughout the United States.
Viewing will be Monday, Sept. 14, from 10 a.m. to noon, and the funeral will begin at 2 p.m. at Kibbey-Fishburn Funeral Home, 1102 N. Lincoln Ave., Loveland, with the Rev. Linden Kirby officiating.
Memorial contributions can be made to Pathways Hospice in care of Kibbey-Fishburn Funeral Home, 1102 N. Lincoln Ave., Loveland, CO 80537.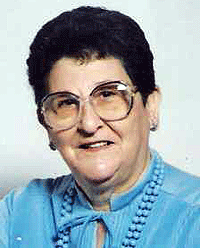 Print This Post