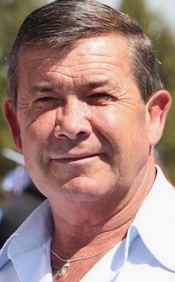 Kevin Wykoff of Berthoud passed away at his home February 10, 2016 of natural causes. He was born in Longmont, Colorado to Ellis and Pearl Wykoff on July 19, 1956. He graduated Berthoud Jr./Sr. High School in 1974 and then went to work for Kodak, however factory work was not for him. He later worked at Kronenburg Lumber for many years. Kevin enjoyed woodworking, the great outdoors, his family, his daughters, his grandchildren and loved life, family and friends.
Kevin was preceded in death by his parents, beloved Cheryl Phillips and her son Joshua Harmon, brother-in-law Earl D. Sterkel and sister-in-law Amender Wykoff, aunts, uncles and Rascal Racoon.
Kevin is survived by his brothers Joel Wykoff (Debra) of Berthoud and Rex Wykoff of Fort Collins; sisters Annette Sterkel of Berthoud, Loretta Oddo (Phil) of Davis, Illinois, Roberta Wykoff of Loveland and Patricia Strozzi (Tom) of Loveland; daughters Charity Schmidt (Bernie Salazar) and Kristina White both of Berthoud. The sparkle in Kevin's eyes are his granddaughters Taylor Schmidt, Alyssa Johnson and Trinity White as well as his grandsons Mason Schmidt and Jess Alan Wykoff. Kevin will also be greatly missed by many nieces and nephews, many more great nieces and nephews, even more great-great nieces and nephews and a lot of cousins. HAPPY TRAILS BIG BROTHER.
Funeral services will be held at New Freedom Church in Berthoud on Tuesday February 16, 2016 at 2:00 P.M., with a reception following at the church. Interment will take place at Foothills Garden of Memory in Longmont. Memorials may be made to the Kevin Wykoff Memorial Fund c/o Viegut Funeral Home. Go to www.viegutfuneralhome.com for condolences.

Print This Post