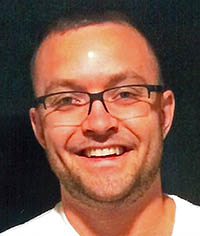 Lance Warren Beller, 26, of Berthoud passed away on June 15, 2016. Lance was born in Fort Collins,. on August 18, 1989. He grew up in Berthoud and graduated from Berthoud High School in 2008 and IBMC with an Associate Degree of Arts and Science. Lance worked in turbine production at Vestas Blades in Windsor.
Lance loved to hike and fish, and listening to country music. He was very close to his family and loved spending time with his cousins.
Lance is survived by his parents, Brenda Beller of Berthoud, Colorado. and Matthew Beller of St. Petersburg, Florida; daughter Myla; brother Kyle Beller of Berthoud, and numerous aunts, uncles and cousins. He is preceded in death by his grandparents William and Lorraine Duarte and Warren and Joni Beller.
A visitation will be held at 10:00am on Friday, June 24, 2016 at Allnutt Funeral Service followed by the Funeral Service at 11:00am. Please view the online obituary, send condolences and sign the family guest book at www.allnutt.com.

Print This Post