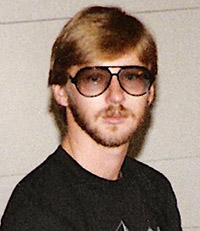 Nathan "Scott" Crooks was born November 19, 1961 in Phoenix Arizona. He is survived by his Mother and Step Father, Alberta and Jim Le Feber of Berthoud; one sister and brother-in-law, Debra and Mark Medvedeff of Loveland; two nephews, Robert Crooks and wife Soyna of North Pole, Alaska and Jimmy Dew of Greeley; two great nephews, Matthew and Ryan Crooks; his father, James Crooks of Benson, Az.; one step brother, Greg Carter of Kingman, Az.; four aunts, two uncles and many cousins.
Scott grew up in Berthoud, he had many interests including Tae Kwan Do, Skateboarding and Motorcycle racing. He graduated from the Harley Davidson school of Mechanics. After returning to Colorado, Scott suffered a severe brain injury in a hit and run motorcycle accident in April of 1994. He was cared for at home by his mother and step father until his death on March 1, 2016.
A memorial will be held Sunday, March 13, 2016, 2pm – 4pm at the Berthoud Community Center. In lieu of flowers, donations may be made to the Colorado Reading in care of Kibbey-Fishburn Funeral Home.

Print This Post