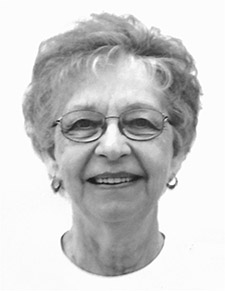 Norma Jean Swanson Huffaker, age 78, passed away at Pathways Hospice – McKee Medical Center in Loveland, on April 8, 2016. She was born on August 27, 1937 in Longmont, Colorado, to parents Carl M. Swanson and Frances Edmondson Swanson.
She graduated from Berthoud High School as Class Valedictorian in 1955. After graduation, she attended Parks Business School in Denver and began what would become a long career in accounting, real estate and business management.
On February 16, 1957, she married Charles W (Charlie) Huffaker in Loveland, Colorado.
Together they started their family in Longmont, with Norma working at the Dworak Agency and eventually teaming up with Charlie to open the Longmont location of Hillcrest Glass.
They moved the family back to Berthoud so that their sons could grow up on the family farm and attend Berthoud schools.
Norma and Charlie were able to retire early and enjoy the RV life for a few years, traveling around the western US, until settling in Tucson, where Norma managed the office of an RV resort. After Charlie's death in 2007, Norma returned to Loveland to be closer to her family and reconnect with her many friends.
She was active in many groups at the First Presbyterian Church in Berthoud, as well as PEO, and her latest residence in the Mirasol Community. She touched many lives in her service for others.
She loved spending time in the mountains along the front range, camping, going on picnics or watching the abundant wildlife
Norma is survived by her sons Charles Huffaker (Paula) and Harold Huffaker. She was preceded in death by brother Duane Swanson and husband Charles W. Huffaker.
Services will be held at the First Presbyterian Church of Berthoud on Saturday, April 16 at 10:30 a.m.
Donations to support college scholarships for women may be made in Norma's honor to P.E.O. Chapter HA c/o Carol Brewer P.O. Box 1135 Berthoud CO 80513

Print This Post