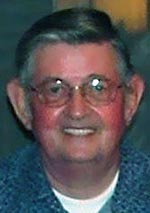 Robert Raymond Corbett, 78, of Berthoud died April 15, 2011 at his home. He was born March 20, 1933 in Chicago, Illinois to Vincent and Alice (Peacock) Corbett.
On April 21, 1954 he married Arleen Korcz in Camden, South Carolina. Robert and Arlene lived in Carlisle, Iowa before moving to Berthoud. Robert received his BA in Mathematics from Inter American University in Puerto Rico. He served our country in the U.S. Air Force from 1950 to 1970 For the next two years after he served he worked at Murray and Trettel until starting with the National Weather Service in 1972. Robert enjoyed woodworking and electronics.
Robert is survived by his loving wife Arleen Corbett of Berthoud; sons Mike (Joni) Corbett of Noblesville, Indiana; daughters Julie (Mike) Ehmann of Grandby, Colorado; Betsy (James) Jarvis of Louisville, Colorado; Christianne Corbett (Joe Conley) of Takoma Park, Maryland and Amanda Corbett of Minneapolis, Minnesota; brothers Don (Ellen) Corbett of Villa Park, California: Bill (Kathy) Corbett of New Buffalo, Michigan and James (Rita) Corbett of Elgin, Illinois; 13 grandchildren; an uncle, Chuck (Wanda) Korcz of Park Ridge, Illinois, Sue (Will) Banister of Chicago, Illionis and Carol.
He was preceded in death by son Daniel, daughter Shari (Eustice), father Vincent and mother Alice (Peacock) of Chicago, Illinois.
Cremation has taken place. No services scheduled.
Go to www.viegutfuneralhome.com for condolences.

Print This Post