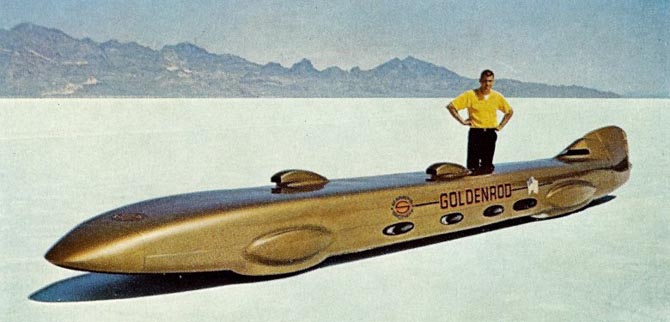 Goldenrod sets the land-speed record
On this day in 1965, brothers Bill and Bob Summers set a world land-speed record—409.277 miles per hour—on the Bonneville Salt Flats in Utah. They did it in an amazing, hemi-powered hot rod they called the Goldenrod. (The car got its name from the '57 Chevy gold paint the brothers used.) Today, the Goldenrod is on display at the Henry Ford Museum in Dearborn, Michigan.
The Summers brothers—Bill was the levelheaded engineer and Bob was the daredevil driver—had been hot-rod racing near their home in Southern California and at the Bonneville Salt Flats for years. In 1963, they decided to get serious: if they could find the parts and equipment they needed to build the right car, they agreed, they would try to go faster than any man had ever gone. (The land-speed record at that time, 394.196 miles per hour, had been set by Briton John Cobb in 1947.) But the Summers brothers weren't the only people to have this idea: In July 1964, Englishman Donald Campbell broke Cobb's record (403.10 mph), and in 1964 and 1965, two American drivers used jet engines to go more than 600 miles per hour.
But the Summers brothers thought that using jet engines was cheating: They believed, wrote one reporter, "that real cars were driven by friction between tires and the ground." The brothers wanted their car to be as fast as possible by being as aerodynamic as possible, and it was: The finished Goldenrod was the sleekest, lowest, narrowest racer in history. It was 32 feet long, 48 inches wide and 42 inches tall, with a pointed nose and four 426 cubic-inch V8 hemi engines on loan from Chrysler. (Firestone Tire and Rubber donated the specially-built low-profile tires, and Mobil Oil provided the fuel.)
The Goldenrod's first six-mile run across the Bonneville Salt Flats broke Campbell's record easily, averaging 417 miles per hour. To set an official record, however, a car must make two record-breaking runs, one out and one back, within an hour. With five minutes to spare, the yellow car headed across the desert for a second time. When she screamed past the timers, her achievement was official: she'd hit an average speed of 409.277 miles per hour.
Because the Summers brothers had to return the Goldenrod's engines to Chrysler, they never tried to break their own record. It stood until Al Teague's supercharged Spirit of '76 broke it until 1991. In 2002, the Henry Ford bought the Goldenrod, paying for the car's restoration with a grant from the federal Save America's Treasure's Fund. The car is on display at the museum today.
For this and more events on November 12, visit History.com  
For more details visit Land Speed Racing History

Print This Post