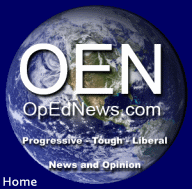 Bold and Daring: The Way Progressive News Should Be
Provocative and informative, news and opinion that you did not see on the nightly news. Learn the rest of the story. You may not agree with everything here, but you will find it thought provoking and illuminating.
 Daily Headlines
---
 Latest Articles
---
From Arab Spring to Russian Winter?
The December discontent in Russia is a conservative protest vote of the middle class against modernization. The social agenda of the left won, while the competitive agenda of liberals, a group which happens to include Medvedev and United Russia, lost.
Pathetic Partisan Persuasion and Other Stupid Stuff
American voters in the main cast for more-or-less their partisan persuasion, that is Democrat or Republican. But still quite a few offended by both will insist to vote for their choice of the "lesser-evil" major candidate. We must do better than this.
Kristallnacht in Palestine
Virtually daily, Israeli security forces attack, kill, or injure Palestinian civilians with impunity. They also destroy their property by bombing, shelling, bulldozing and uprooting it.
It would certainly be ironic if the members of the "invented" Palestinian nation were expected to ask for recognition from the members of the "invented" Jewish/Israeli nation, at the demand of a member of the "invented" American nation, a person who, by the way, is of mixed German, English, Scottish and Irish stock.
 Best News Links from the Web
---
ICC prosecutor: Concerns over Gaddafi's death
The death of former Libyan leader Muammar Gaddafi, who was captured and killed by fighters in October, may have been a war crime, the chief prosecutor of the International Criminal Court [ICC] has said.
Who will deliver the US postal service from destruction?
Around 120,000 postal workers will lose their jobs with another 100,000 positions going unfilled. Saturday delivery will be gone, and first-class letter delivery will be slowed. Some historic postal buildings, including those with New Deal-era murals, have already been sold off. How could this venerable institution founded in 1775, which ran deficits for most of its existence as the "US Post Office Department", face a possible shutdown?

Print This Post