Friday, 21 May 2010 from 7:00 – 11:00 p.m.
Public Star Night at the Little Thompson Observatory,
850 Spartan Ave at Berthoud High School (park east of the high school; directions are posted on our website www.starkids.org )
Our guest speaker for Friday May 21, 2010 will be Jeremy Stober from Ball Aerospace & Technologies in Boulder, who will talk about the NASA Kepler mission.
Jeremy Stober is the Mission Operations Manager for Kepler, a NASA mission that was launched in March 2009 and designed to find Earth-like planets. The mission was named after Johannes Kepler, a 16th century German mathematician and astronomical explorer.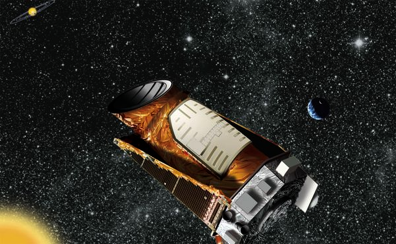 The Kepler mission uses the transit method to detect extra-solar planets. When a planet crosses in front of its star as viewed by an observer, the event is called a transit. Transits by terrestrial planets produce a small change in a star's brightness of about 1/10,000 (100 parts per million, ppm), lasting for 2 to 16 hours
Jeremy has worked at Ball Aerospace for 13 years on various proposals and projects including Deep Impact whose probe collided with comet Tempel 1 on July 4, 2005. He grew up in Golden, CO and graduated from the University of Colorado at Boulder with a BS in Aerospace Engineering
Weather permitting after the presentation, visitors will be invited to look through our large telescope at various celestial objects. Public star nights are held the third Friday of each month (except July, when we are closed for annual maintenance). No reservations are necessary for these nights. Just come and join us for the talk and some observing afterwards. If you have any questions, please call the observatory information line at 970-613-7793 or check the LTO web site at: www.starkids.org
Sincerely,
Meinte Veldhuis
President, Little Thompson Science Foundation

Print This Post