A Nice Trip to Italy
By Thomas N.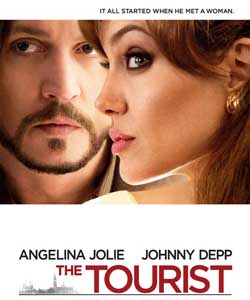 Johnny Depp and Angelina Jolie star in The Tourist a fun thriller, directed by Florian Henckel von Donnersmarck. While the movie most likely will not win many awards, The Tourist has acceptable acting, an intriguing story, and a beautiful setting which makes for an enjoyable movie to see over the holiday season.
Depp plays character Frank Tupelo, a math teacher from Wisconsin who is vacationing in Europe. Jolie's character is Elise Ward, a charming British woman hunted by both Scotland Yard and a surprisingly non-Russian mob boss. Elise is being hunted as it is thought that she may have information on the location of her former lover, Alexander Pearce. Pearce stole a great deal of money from the mob boss and is being hunted by Scotland Yard who wants to collect the back taxes on the stolen money. In the beginning of the film, Ward is in a café in France where she receives a letter from her former-lover Pearce, telling her to board the next train to Venice. In the letter she is also instructed to find a man of similar height and build to Pearce so that Scotland Yard will think this man is Pearce. Of course the mob will think he is Pearce as well. The man she chooses is Frank Tupelo. The plot is intriguing and is supported by decent acting from both Deep and Jolie. Depp has some humerous  but forgetable lines. Jolie is beautiful yet in The Tourist but that is all there is to her character, there is no character development for her. This movie has two of the best actors of their time, yet they fail to  impress. Depp and Jolie do make a cute couple even though Jolie is more one dimensional that Wile E. Coyote. The twist at the end of the movie will make audiences smile yet it raises more questions than it answers.
About eighty percent of the movie is shot in Venice, Italy and the beautiful architecture is the highlight of the film. The scenes in Hotel Danieli are especially breathtaking. After seeing this movie audiences will want to sail away to Venice.
If you have family and friends visiting for the holidays and would like to see a fun movie; make it The Tourist.
PG-13, Running Time: 1 hour 43 minutes
A nice 6 out of 10

Print This Post