By Sabrina Joy Stevens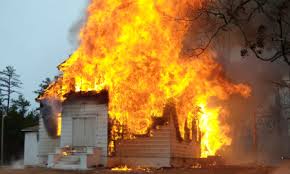 Predominantly black churches in North St. Louis, Missouri, which is near Ferguson, have been targeted by one or possibly more arsonists in the past 11 days. St. Louis and the surrounding region have been home to a resurgence of new-era Civil Rights organizing in the wake of the 2014 killing of Mike Brown by Ferguson police. The Ferguson uprising is credited with launching the nationwide #BlackLivesMatter movement.
This recent string of arsons is the second wave of black church burnings this year. The first occurred this past summer, after arsonists targeted at least six black churches in the wake of the massacre by a young white supremacist at the historic Emanuel AME Church in Charleston, South Carolina.
"You can burn down the building, but you cannot break our body," said the Rev. David Triggs, pastor at New Life Missionary Baptist Church, one of the seven churches targeted.
Arson against black churches has a long history in America, related to the central role these churches have traditionally played in black communities. Dating back to the decades before the Civil War, the black church has been both a place of worship and a site of resistance to violent oppression. From 19th-century movements to end slavery, to 20th-century opposition to Jim Crow segregation, to present day struggles like #BlackLivesMatter, the black church has been key to the long and ongoing fight for civil rights and equality for all Americans.


Print This Post