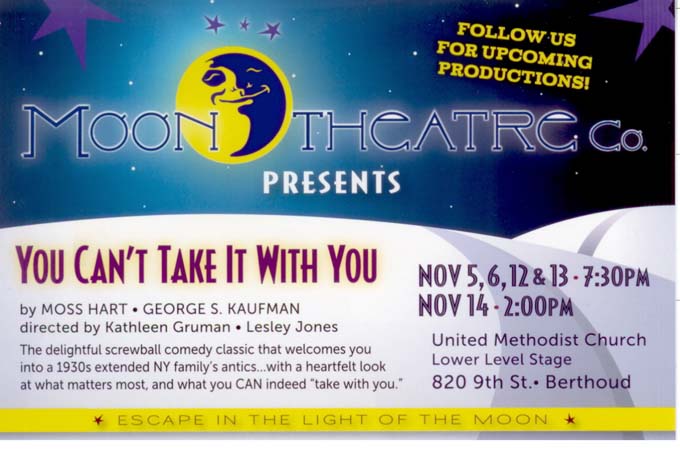 The Moon Theatre Company will be bringing the community theatre production of Kaufman and Hart's 3-act comedic play You Can't Take it With You to Berthoud this weekend. The Pulitzer Prize winning play will be performed at the United Methodist Church, lower level stage, at 820 9th Street in Berthoud (map).
You Can't Take it With You is the latest production by the directing duo of Kathleen Gruman and Lesley Jones. The large and dynamic cast is filled by experienced actors from along the northern Front Range area as well as a few actors making their stage debut.
The play takes place in the New York City home of the Sycamore family. At first the Sycamores seem mad, but it is not long before you realize that if they are mad, then the rest of the world is madder. In contrast to these delightful people are the unhappy Kirbys. Tony, the attractive young son of the Kirbys, falls in love with Alice Sycamore and brings his parents to dine at the Sycamore house on the wrong evening. The shock sustained by Mr. and Mrs. Kirby, who are invited to eat cheap food, shows Alice that marriage with Tony is out of the question. The Sycamores find it hard to understand Alice's view. Tony knows the Sycamores live the right way with love and care for each other, while his own family is the one that's crazy. In the end, Mr. Kirby is converted to the happy madness of the Sycamores after he happens in during a visit by the ex-Grand Duchess of Russia, Olga Katrina, who is currently earning her living as a waitress.
The Original production opened in December 1936 and played for 837 performances. This production will have 5 performances over the next two weekends. The price is a very affordable $10, less if you are 12-years of age or younger or are a senior (no age given). Those youngsters and oldsters pay only $8.
This is great entertainment at a reasonable price. Come out and support your local theater group.
Performances
Friday, November 5 at 7:30 pm
Saturday, November 6 at 7:30 pm
—–
Friday, November 12 at 7:30 pm
Saturday, November 13 at 7:30 pm
Sunday, November 14 at 2:00 pm.
—–
Doors open 30 minutes before show time.
—–
(Ten % of the proceeds will be donated to the United Methodist Church.)

Print This Post