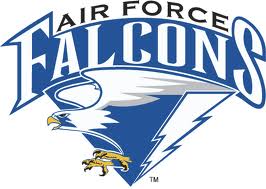 DENVER, Colo. – Freshman Jason Torf made a career high 36 saves as Air Force beat Clarkson, 2-1, in the first game of the 19th annual Denver Cup college hockey tournament at Magness Arena in Denver. Air Force improved to 5-6-1 overall while Clarkson fell to 6-5-2. The win was Air Force's first ever in the Denver Cup, snapping a 14-game losing streak in the tournament that was started in 1992.
Air Force scored first as Matt Becker gave the Falcons a 1-0 lead at the 4:30 mark. Blake Page gave Becker the puck on the right side and the senior's wrister went over the shoulder of the goaltender and just under the cross bar. Torf made 13 saves in the period.
Early in the second period, Clarkson's Nik Pokulok was called for a five-minute major penalty checking from behind when Falcon freshman Tony Thomas was taken into the boards. However, the Golden Knights tied the game on a short-handed goal by Nick Tremblay at 8:07. Tremblay weaved through a couple Falcons and went high over Torf's glove for his third of the season. Air Force had just two shots on goal on the power play and the game was tied at 1-1 when the teams were back at even strength. With 2:28 left in the period, Page won a faceoff in the offensive zone and Brad Sellers sent a wrister through traffic that gave the Falcons a 2-1 lead.
Two minutes into the third period, Clarkson's Allan McPherson got behind the Falcon defense and took a pass at the blue line. He skated in uncontested but Torf made a pad save to preserve the one-goal lead. With 52 seconds left in the game, a penalty on Falcon defenseman Mike Walsh put the Golden Knights on the power play. After pulling the goaltender, the Knights had a two-man advantage. Torf made two saves and then Falcon Paul Weisgarber cleared the puck out of the zone with 13 seconds left as the Falcons earned their second win of the season over a team from the ECAC hockey league
Clarkson outshot Air Force, 37-34, the game. Cody Rosen made 32 saves for the Knights. AFA was 0-for-3 on the power play while Clarkson was 0-for-2.
The tournament concludes on Saturday, Nov. 27, as Air Force faces 12th-ranked Denver at 7:07 p. m. MT in Denver.
Dave Toller
Assistant Athletic Director-Media Relations
U. S. Air Force Academy Office

Print This Post