First Major Showing in Rocky Mountain Region
"Sometimes I do get to places just when God's ready to have somebody click the shutter."  Ansel Adams
FORT COLLINS, CO—The first major showing in the Rocky Mountain region of photographs from the Museum Set by legendary photographer Ansel Adams: Masterworks will open Jan. 14, 2011, at the Fort Collins Museum of Art (formerly Fort Collins Museum of Contemporary Art.)
Long recognized as one of America's premier photographers, Adams (1902-1984) hand-selected photographs for the Museum Set, a portfolio collection of his best work. FCMOA will exhibit 48 works from the portfolio, the first exhibition mounted under the museum's new mission and name. The exhibit runs through March 15, 2011.
Ansel Adams: Masterwork reveals the importance Adams placed on the visual splendor of such natural environments as the Sierra Nevada, Yosemite Valley and New Mexico.  Landmark photographs such as Monolith, the Face of Half Dome, Yosemite National Park, California and Moonrise, Hernandez, New Mexico, are included in the exhibition. It is through Adams' photographs that many Americans have come to know these places.
FCMOA and Beet Street co-present the exhibition.  Major Sponsor: Dr. Mervyn Jacobson; Landmark Sponsor: EKS&H; Education Sponsors: Susan and Scott Shannon and Gwen and Charlie Hachette.
Ryan Kieffer, Beet Street executive director notes, "Beet Street's partnership with FCMOA to bring this exhibition to Northern Colorado is an example of how collaboration between private, public and business sectors can promote economic, cultural and social growth in downtown Fort Collins."
Ansel Adams:  Masterworks was organized by The Turtle Bay Exploration Park, Redding, Calif.  Exhibition tour management by Landau Traveling Exhibitions, Los Angeles, Calif.
FCMOA, 201 S. College Ave., Fort Collins, Colo., is a private, nonprofit museum located in the historic Post Office building in Old Town Fort Collins. Beet Street is a non-profit organization that serves as a catalyst to develop Fort Collins into a nationally recognized arts and culture center and destination.
In conjunction with the exhibition, FCMOA will offer curriculum-related school tours for local students. A free Family Day will be held Saturday, Feb. 12, 2011, from 12-5 pm.
Museum hours are 10 a.m.-5 p.m., Wed.-Fri.; noon-5 p.m., Sat. and Sun. Closed Monday and Tuesday
Admission is $8 for adults; $6, seniors (65 and over) and students (18+ with college ID); $5, youth (7-18); children, free (6 and under). Admission is free to FCMOA members.
For more information, go to www.ftcma.org or www.beetstreet.org.
Adams grew up in San Francisco, where he was born in 1902. He was introduced to the expanse of California's Yosemite Valley while on a family vacation at the age of 14. At this time he also was given a No. 1 Brownie Box camera. These two events strongly influenced the course of Adams's life. Fascinated by photography and impressed with the beauty of the Sierra mountains, Adams worked with a photofinisher in San Francisco during the winter and returned to Yosemite every summer.
In his teens, Adams decided to become a concert pianist; however, by 1930, after viewing negatives made by East Coast photographer Paul Strand, he chose instead a career in photography.
Adams, with other noted American photographers Edward Weston, Imogen Cunningham, Sonya Noskowiak, John Paul Edwards and others, founded Group f/64 in protest to the soft-focused, sentimental style of pictorialism that mimicked painting styles. f/64 refers to a camera's smallest lens opening through which light passes: images photographed at this setting yield sharp focus and fine detail of subject matter.
f/64 photographers emphasized form and texture, rather than soft focus and emotionalism, and translated scale and detail into an organic, sometimes abstract, design Adams published his first book, Making a Photograph, which was enthusiastically received. Six years later, his groundbreaking Zone System was formulated, which introduced a way for amateur photographers and professionals alike to determine and control the exposure and development of prints for maximum visual acuity.
During this time Adams also became increasingly interested in the preservation and conservation of United States' wilderness areas and national parks. He served as a board member and ultimately director of the Sierra Club and as an environmental spokesperson for land protection before Congress.
FCMOA EXHIBITS TOP EXAMPLES OF ANSEL ADAMS PHOTOGRAPHS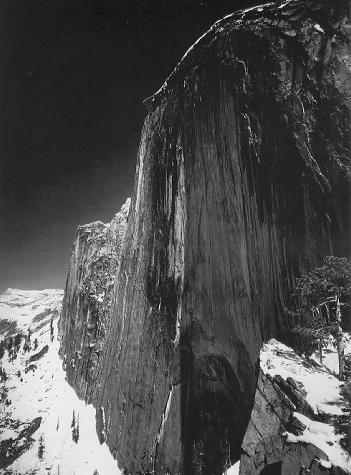 Monolith, the Face of Half Dome, Yosemite National Park, California 4/17/1927 19 ¼" x 14 3/8"
"I saw the photograph as a brooding form, with deep shadows and a distant sharp white peak against a dark sky.  The only way I could represent this adequately was to use my deep red Wratten No. 29 filter, hoping it would produce the effect I visualized….This photograph represents my first conscious visualization; in my mind's eye I saw (with reasonable completeness) the final image as made with the red filter….Over the years I became increasingly aware of the importance of visualization.  The ability to anticipate—to see in the mind's eye…the final print while viewing the subject makes it possible to apply the numerous controls of the craft in precise ways that contribute to achieving the desired result."  Ansel Adams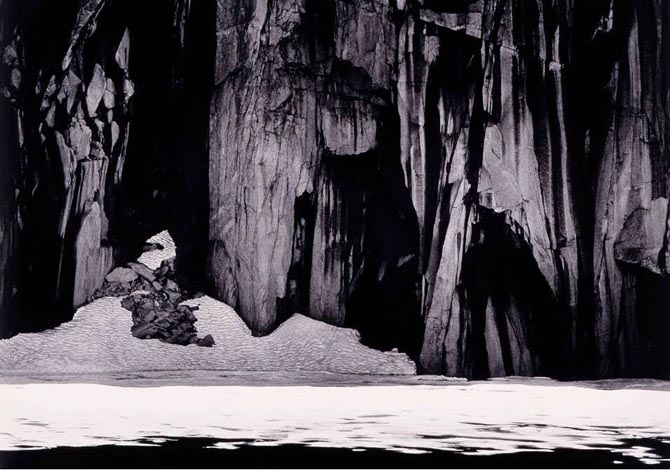 Frozen Lake and Cliffs Sierra Nevada, Sequoia National Park, 1932 14 ¼" x 18 ½"
"This photograph represents my transitional period into Group f/64 philosophy, which emphasized very sharp focus and full tonal scale, in reaction to the visual softness of the Pictorialism popular at the time…Many speak of this image as abstract, but I was not conscious of any such definition at the time.  I prefer the term extract over abstract, since I cannot change the optical realities, but only manage them in relation to themselves and the format."  Ansel Adams

Print This Post