Article appeared in the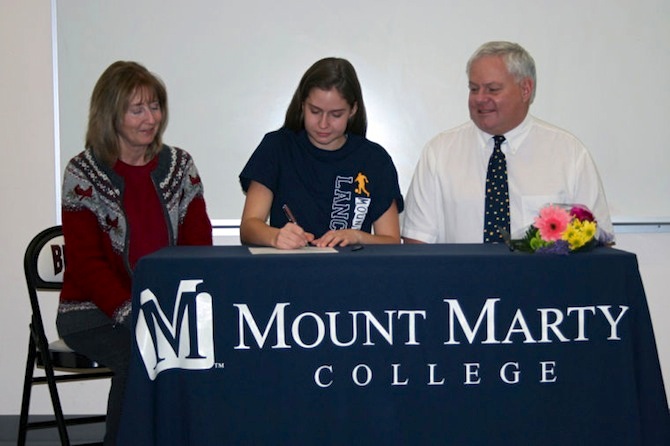 Sara Sterck of Berthoud, Colo. (center), flanked by parents Beth (left) and Bill Sterck, signs to attend
Mount Marty College. She will participate in the women's soccer program, as well as the archery club program.
  Sara Sterck of Berthoud, Colo., will attend Mount Marty College and play women's soccer for the Lancers. She also plans to participate in the Lancers' club archery program, according to a release from MMC.
Sterck was a three-year starter and a four-year letterwinner for the Berthoud High School team. She also competed at the club level with the Club United Black.
"We are very excited to have Sara join our soccer program," said head MMC women's soccer coach Nathan Epp. "She will bring some much needed depth to our attack. She is very aggressive and good with the ball at her feet and is also very good in the air, which is an area where we have struggled at times."
Sterck is the second Berthoud High School senior to sign with the MMC soccer program. She will join her high school teammate, Mykaela Hughes, who will start her career as a Lancer this spring.
"Sara will be a great fit for Mount Marty. She is planning on being very involved in campus activities including participating in the archery club, and we look forward to having her on campus," Epp said.
Sterck was named the 2013 Colorado Shooter of the Year, was first on the 4H National Recurve Team and is the Colorado state record holder for Junior Olympic Archery Development (J.O.A.D).
Sterck, the daughter of Bill and Beth Sterck, plans to major in exercise wellness at Mount Marty College. In addition to her athletic awards she will also receive an academic achievement scholarship.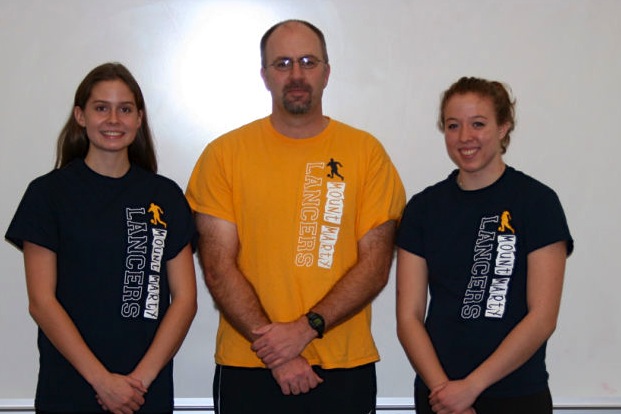 Mount Marty College head women's soccer coach Nathan Epp, center, stands with Sara Sterck, left, 
and Mykaela Hughes, both of Berthoud (Colo.) High School. Sterck recently committed to MMC, 
announced on Thursday. Hughes' commitment was announced earlier this school year.

Print This Post