Berthoud horses are headed to the Rose Parade in California
13 Norwegian Fjord horses — with eight from Berthoud — will make their debut in the 125th annual Rose Parade in Pasadena
By Jessica Benes Reporter-Herald Staff Writer
 About 800,000 people will experience the 125th Tournament of Roses Parade live from Pasadena, Calif., on Wednesday, and another 57 million people will view it on television.
Viewers will see flowery floats, marching bands and equestrian units marching along the 5.5-mile parade route.
And among that latter group, the equestrian entrants, will be Jeanne Poirier and Beth Beymer of Berthoud, who are participating with eight Norwegian Fjord horses.
The Norwegian Fjord horse is a small draft breed that is extremely versatile, Poirier said. They can be used to draw carriages, for trail riding and for dressage. The horses will pull carriages in the parade, which has the theme, "Dreams Come True."
Poirier said it will be the first time Norwegian Fjord horses will be represented in the parade.
"It is the event of a lifetime," she said.
Poirier is the registrar for the North America Norwegian Fjord Horse Registry. About a year ago, members agreed to try to enter some Fjords in the Rose Parade. They soon found the application process lengthy and complicated. …


Fargo mother, daughter help family member create garment to wear in Rose Parade
By Sherri Richards 
Fargo – With careful stitches, Mary Hoffmann pieces together the white linen blouse. Her daughter, Emily Brooks, adorns its front and back with elaborate, white-on-white embroidery.
A Nordic horse. A rose. A Celtic symbol.
It's the story of Brooks' cousin, Shari MacCallum Clark, of Berthoud, Colo., who will wear the blouse while riding in Wednesday's Rose Parade.
It's also the story of their Norwegian ancestors, particularly Brooks' and Clark's great-grandmother Anna Bergem, who ran the ranch near Watford City, N.D., after her husband's death, and who passed down through the generations a legacy of sewing and needlework.
Hoffmann and Brooks, of Fargo, are helping Clark create a modern take on a bunad, a traditional Norwegian garment worn for special events.
Clark, a longtime horse lover who grew up in Minnesota, will be one of the Norwegian Fjord Horse Registry riders in the 125th Rose Parade.
Clark does dressage, a form of precision riding, with the Starfire Farm Quadrille Team in Berthoud. The group performs on their Fjord horses, an ancient breed known for its dorsal stripe and mane, to a live orchestra at National Western Stock Show in Denver.
Clark will ride a rare yellow dun mare named Yenna, on loan from a Wisconsin horse farm, along the 5½-mile route. …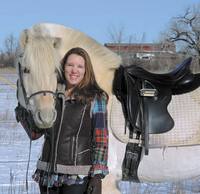 Shari MacCallum Clark of Berthoud, will ride Yenna, a rare-colored Fjord horse on loan from a Wisconsin horse farm, in the Rose Parade. Special to The Forum

Print This Post