By Laurie Hindman
Berthoud Recorder
Tickets are on sale now for the Berthoud High School production of the popular Broadway musical, "How to Succeed in Business Without Really Trying." The fast-paced, immensely entertaining satire showcases the talents of BHS veteran performers as well as newcomers to the high school stage.
Frank Loesser and Abe Burrows wrote the musical, an adaptation of a novel written by Shepherd Mead. BHS senior, Max Kleber, plays the protagonist of the story, J. Pierrepont Finch, a young, confident window cleaner who is filled with great ambition. Finch diligently studies the book, "How to Succeed in Business," determined to follow its guidance to the letter and climb the corporate ladder.
Rule number one is to find a job in a large corporation, and Finch easily scores an entry level position in the mail room of "World Wide Wickets," a stereotypical corporation with manifold layers of managers, company politics, nepotism and deception.
Finch meets secretary, Rosemary Pilkington, played by Caitlin Owens, who, after meeting Finch, develops ambitions of her own — marital ones, that is. While Finch contrives to climb from mailroom to vice president in charge of advertising, Pilkington plots to capture the heart of Finch.
Meanwhile, Bud Frump, (Joe Skrobacz), the jealous nephew of the company president, J.B. Biggley, (Parker Owens) schemes to thwart Finch's ambitions. With the help of his business guide, Finch stays one step ahead of Frump's nefarious plans; but when Finch is deceived into promoting a ruinous ad campaign, his trusty manual fails him, and he is forced to rely on his own ingenuity to save his career.
This ambitious production has a cast of 40, including several students from the middle school. Play director Paula Latchaw said she selected the musical because it is enormously entertaining and clever.
"I always loved the show," said Latchaw. "It's very funny, with several plot twists." Latchaw noted that each year she tries to vary the style of the musical the school performs. Over the last few years BHS performances have ranged from well-loved shows like Roger & Hammerstein's "The King and I" to off-beat rock musicals like "The Little Shop of Horrors" by Alan Menken and Howard Ashman.
"How to Succeed in Business Without Really Trying" is a rollicking, fun-filled, romp with witty writing, well-choreographed dance numbers and catchy music. Tickets are on sale now at the high school main office: $8 in advance, $10 at the door. Shows are Thursday, Oct. 29, and Friday, Oct. 30, at 7:30 p.m. with a Saturday matinee at 2 p.m. on Oct. 31.
This year BHS is offering a second weekend of shows on Nov. 6 and 7 at 7:30 p.m.
Cast:
J Pierrepont Finch Max Kleber
Gatch Dustin Trembath
Jenkins/TV Announcer/Womper Jon Neuhalfen
Tackaberry Sam Kleber
Matthews Jack Thorne
Johnson Severin Lier
Davis/Peterson Aiden Colton
J.B. Biggley Parker Owens
Rosemary Caitlin Owens
Bratt Nicholas Alexander
Smitty Sonya Ropek
Bud Frump Joe Skrobacz
Miss Jones Katie Kouns
Miss Twimble Maggie Stamets
Hedy Amelia Sevy
Miss Krumholtz Michelle Kahn
Toynbee Nils Hansen
Ovington/Policeman Matthew Pond
Secretaries
Marie Andrade Allison
Miranda Kouns
Michaela Matuousek
Jessalyn Neuhalfen
Maggie Stamets
T.K. Stoudt
Alex Sullivan
Amanda Walsh
NataLee Hawkins
Sam Alexander
Kim Rosson
Katelyn Johnson
Estefanie Martinez
Jesa Emerson
Jessica Bode
Amy Taylor
Maddie Angus
Kayla Stevenson
Tanya Deeming
Executives
Jon Neuhalfen
Dustin Trembath
Severin Lier
Aiden Colton
Jack Thorne
Sam Kleber
Matthew Pond
Nils Hansen

News Image: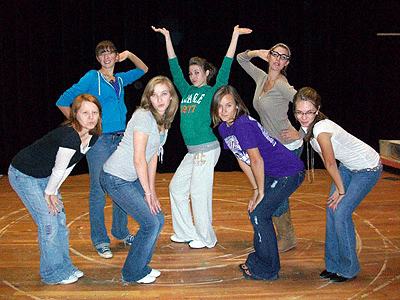 Category Lead:
Category Primary Featured Story

Print This Post