Big Thompson Canyon Association Pancake Breakfast; Sunday, May 19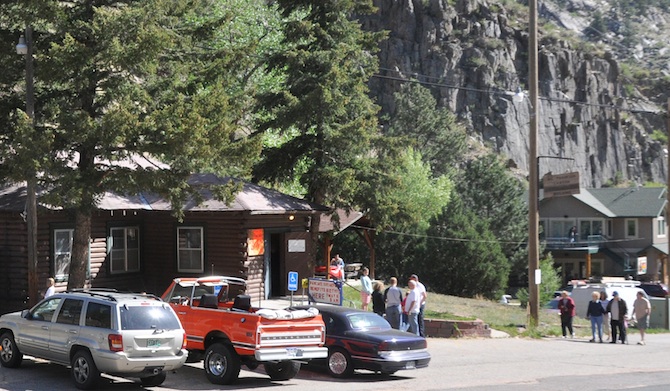 Now in its 45th year, the Big Thompson Canyon Association (BTCA) Pancake Breakfast has become a tradition in many families. A Sunday trip up the Big Thompson Canyon combined with breakfast in the big historic log building spells an enjoyable and inexpensive family outing. Advance tickets are only $6 for adults and $4 for children 4 to 9 years of age; tickets are $1 more at the door.  Little ones under 4 eat for free.  The BTCA building is located about 1 mile east of Drake.
In addition to providing a great all you can eat breakfast, your ticket is your entry for a chance to win $500 in plants and/or services from Aspen Landscape of Loveland. One lucky patron will win this prize with no additional purchase.
There are more activities than just eating at the breakfast. BTCA members will host a bake sale and a charity raffle that includes merchandise prizes and gift certificates from many area merchants.  The Big Thompson Canyon Volunteer Fire Department (BTCVFD) is hosting a craft show next door at the firehouse; all participants are local crafters.
Proceeds from the day's activities will fund the BTCA during the year and contribute to the BTCVFD budget.  The BTCA maintains the building and provides a gathering place for the local community.
The fire department has served the communities of Drake, Waltonia, Cedar Park, Cedar Springs, and the Storm Mountain area since 1963. As part of the Loveland Rural Fire Protection District, they work in coordination with Loveland Fire Rescue and Thompson Valley EMS to keep our area safe. As need requires, they also respond to mutual aid calls with Estes Park Fire Rescue, and the Glen Haven area Fire Department. They are working to develop a seasonal wildland team to provide additional support during wildland fire season.
Advance tickets may be purchased at:
Loveland: Anthology Book Store, Hank's Pet Food Market, Sunny Jim's Candies, Quick Print Shop, Van's Cleaners and Whiteside's Western Wear
Estes Park: Ace Hardware, the Estes Mark Senior Center, Macdonald Book Shop and Rocky Mountain Chocolate Factory.
Big Thompson Canyon: The Big Thompson Indian Village and Riverbend Store.
Berthoud:  Indigo Sky Trading Company

Print This Post